"

It's not easy being both hot *and* cold. A comfortable lukewarm might be nice for a change.

"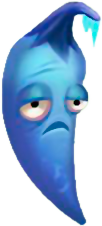 Chilly Pepper is a minor recurring character within the Plants vs. Zombies franchise. He is similar to Jalapeno, exploding and dealing damage to a straight line of zombies. Unlike Jalapeno, however, Chilly Pepper freezes zombies in place rather than incinerating them.
Character descriptions always portray Chilly Pepper in constant discomfort due to his ice abilities leaving him in a perpetual state of being cold.
As of Plants vs. Zombies 3, Chilly Pepper has appeared in three games.
Origins
Chilly Pepper is based on the Jalapeno, who in turn is based on the cultivar of the same name of the species Capsicum annuum.
His name is a portmanteau of "chili pepper," the fruit of certain species of peppers, and the homophone "chilly," meaning cold.
History
Main article: Chilly Pepper (PvZA)
Chilly Pepper made his first appearance in PopCap's ill-fated Facebook game Plants vs. Zombies Adventures. He was unlocked after reclaiming The Chilly Lot and took 12 hours to grow and harvest. He was introduced to serve as a counter to Gas Can Zombie.
He costed 100 sun and unlike most plants could only be planted directly on paths the zombies walked down. When planted Chilly Pepper would immediately explode, dealing heavy damage across the entire path and freezing zombies who survived in place. When planted at the crossroads of two paths he would deal damage across both of them.
Main article: Chilly Pepper (PvZH)

Chilly Pepper also made an appearance in the turn-based mobile card game Plants vs. Zombies Heroes as a Rare Premium plant in the

Smarty class.
Chilly Pepper costs 3

, has 2

/1

, and is part of the Fruit tribe. Chilly Pepper has no traits and when played allows the player to

Freeze a single selected zombie, forcing them to skip their attack during the battle phase.
Main article: Chilly Pepper (PvZ3)

Chilly Pepper's most recent appearance was in the 2021 version of Plants vs. Zombies 3, where he appeared as a Boost plant introduced after beating Level 11 of the game's main campaign.
Once again Chilly Pepper acted as an ice equivalent to the Jalapeño. But unlike Jalapeño, who attacked zombies in a whole horizontal row, Chilly Pepper harmlessly froze zombies in an entire vertical column.
Like all other Boost plants, Chilly Pepper could be planted on other plants and had a limited number of uses. Once the player used up all of their uses, Chilly Pepper could not be played again until more were unlocked after winning enough levels.
Gallery
Plants vs. Zombies Wiki
has a
gallery
for Chilly Pepper.
In other languages
| Language | Name | Description |
| --- | --- | --- |
| English | Chilly Pepper | |
| Simplified Chinese | 冻辣椒 | |
| Traditional Chinese | 冰涼胡椒 | |
| French | Piment de Caillenne | |
| German | Frosteroni | |
| Italian | Peperoncino da brrrividi | |
| Japanese | チリー・ペッパー | |
| Korean | 칠리 고추 | |
| Brazilian Portuguese | Pimentinha | |
| Russian | Холодный перец | |
| Spanish | Chile gélido | |
Trivia

Chilly Pepper was planned to make an appearance in the third person shooter game Plants vs. Zombies: Battle for Neighborville as an ability for the scrapped Iceberg Lettuce class. Chilly Pepper would have been left behind after an evasion dash and explode in an area, freezing enemy zombies within his radius.
Chilly Pepper, Pepper-pult, Ghost Pepper are the only pepper plants that do not explode into fire.
V ·

T

· E

Recurring characters