Raise a Floppa - The Loop
Play Sound

Chili Bean is a recurring character within the Plants vs. Zombies franchise. Chili Bean serves as a one-time use plant against the zombies, often instantly defeating the zombie that triggers his effect. In his debut appearance, Chili Bean has been stated to be attempting to hold in gas, with his idle animation showing him failing to do so and releasing said gas.
In the shooter games, Chili Bean is capable of exploding, possibly suggesting that holding in too much gas makes him explode. The Garden Warfare series also mentions that Chili Bean is often confused for a Brain by zombies.
As of Plants vs. Zombies 3, Chili Bean has appeared in four games.
Origins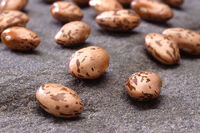 Chili Bean is based on the beans used to make chili con carne: chili beans. Most of the time the food is made of several varieties of the common bean (Phaseolus vulgaris) such as black-eyed peas, kidney beans, pinto beans, great northern beans, and navy beans.
The effect of the zombie unleashing a trail of gas in Plants vs. Zombies 2 and Plants vs. Zombies 3 is based on when you eat chili beans the bacteria on the beans make you pass more gas.
History
Main article: Chili Bean (PvZ2)

Chili Bean's first ever appearance is in Plants vs. Zombies 2, where he is unlocked after beating Day 4 of Wild West.
When a zombie eats him, they will be stunned for 1.5 seconds before dying, unleashing a trail of gas behind them that stuns other non-mechanical zombies in the lane for 7.5 seconds. In the international version, upgrading him can increase the stun time.
He is a member of Ail-mint family, who lets him extend his stun time by twelve seconds and increase his duplication count during his Plant Food effect to ten. His Plant Food effect has him create three duplicates of himself.
Main article: Chili Bean Bomb

Chili Bean appears in all the shooter games as an ability for the Peashooter class, referred to as "Chili Bean Bomb." In the Garden Warfare series, Chili Bean Bomb is launched from a Peashooter's mouth, exploding and dealing 175 damage to all zombies caught within his radius after a few seconds. Chili Bean Bomb then has to go through a 45 second cooldown before being used again.
Chili Bean Bomb has a unique property where Spawnable Zombies will rush towards him, provided that said zombies haven't been attacked from another source, allowing players to bait them away from objectives.
Chili Bean Bomb has two variations throughout the Garden Warfare series: Sombrero Bean Bomb, which draws more attention to itself and has a longer fuse, but deals more damage and has a larger radius, and Dark Bean Bomb (Plants vs. Zombies: Garden Warfare 2 only), which deals less damage and has a smaller radius, but can be carried in pairs and has an extremely short fuse, giving less time for zombies to escape it.
Main article: Chili Bean (PvZ3)

Chili Bean appears in Plants vs. Zombies 3, having the same functionality as his Plants vs. Zombies 2 appearance, defeating the zombie that eats him and making them release gas which stuns all zombies in the lane behind it.
Unlike his appearance in Plants vs. Zombies 2 however, zombies can eat him far more quickly, requiring one bite to do so, and smashing zombies such as Gargantuar can activate his ability despite not eating him.
Gallery
Plants vs. Zombies Wiki
has a
gallery
for Chili Bean.
See also
V ·

T

· E

Recurring characters