This subject currently has no proper strategy associated with it. If you have figured out a good strategy, please
add it
or the zombies will eat your brains!

For more information about the character that this line is based on, see Hypno-shroom.
The Charm line (魅惑系; pinyin: mèihuò xì) is a Class A

Brave plant line in Plants vs. Zombies: All Stars.
The line consists of Beauty-shroom (美人菇; pinyin: měirén gū), Hypno-shroom (魅惑菇; pinyin: mèihuò gū), and Talisman-shroom (灵符菇; pinyin: língfú gū). They all specialize in confusing enemies and making them silent.
Beauty-shroom attacks by sending hearts, Hypno-shroom attacks by blowing charm bubbles, and Talisman-shroom attacks by throwing tassels.
Origins
All members of the Charm line are have a name and ability that is a play on the word "Charm".
Beauty-shroom attacks zombies through love, essentially infatuating or "charming" them.
Hypno-shroom abilities in previous games involve hypnotizing zombies, psychically entrancing them by putting them into a hypnotic charm.
Talisman-shroom's name, attack, and design are based of a Daoist talisman a supernatural charm used to combat supernatural entities.
Almanac entry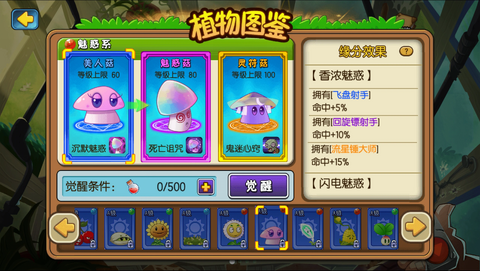 Ways to obtain
Charm line puzzle pieces can be obtained by replaying Far Future - Day 18, and additional puzzle pieces can be obtained through Soulmates Puzzle system.
Abilities
Abilities are unlocked by tiering up, while their effect is increased through star leveling.
Note: 10(+5)% means that at LV1 this ability has a 10% on LV1, 15% on LV2 and so on.
Tier
Effect
Description
1

Silent Charm
[Active]
Has a chance to silent 3 random enemies for 3 turns, making them unable to use their active abilities.
Star leveling increases this chance.
2

Grave Silence
[Passive]
Upon death has a 40(+15)% chance to silent its killer for 5 turns.
 3

Possession
[Passive]
Silent Charm has a 40(+15)% chance to confuse targets, making them unable to dodge incoming attacks for 3 turns.
Star leveling
After unlocking the Charm line, additional puzzle pieces can be used to upgrade it, which increases its stats and ability LVs.
Stars
Puzzle Pieces& required
Upgrade
Coins
Stars
Puzzle Pieces& required
Upgrade
Coins
1
0
+298
0k
1
40
+159
100k
2
2
+99
1k
2
40
+881
121k
3
4
Crit+104
4k
3
50
Crit+341
144k
4
8
+117
9k
4
50
+919
169k
5
15
+482

AbilityLv2

16k
5
60
+175

AbilityLv4

196k
1
15
+420
25k
1
60
+1004
225k
2
20
+124
36k
2
70
+191
256k
3
20
Crit+223
49k
3
70
Crit+460
289k
4
30
+688
64k
4
80
+189
324k
5
30
+135

AbilityLv3

81k
5
80
+239

AbilityLv5

361k
Soulmates
Charm line stats will be increased if these specific plants are unlocked.
Gallery
Plants vs. Zombies Wiki
has a
gallery
for Charm line.
Trivia
Supposedly, Beauty-shroom used to deal 1.5 damage per heart, which made it deal 3 damage per attack in total.
Talisman-shroom bares a resemblance to Magic-shroom.
Community content is available under
CC-BY-SA
unless otherwise noted.