Raise a Floppa - The Loop
Play Sound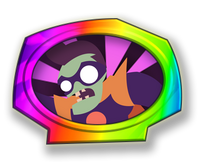 Carried Away is Super Brainz' premium legendary zombie signature superpower trick card in Plants vs. Zombies Heroes and a member of the

Brainy and

Sneaky classes. It costs 1

to play, and its ability moves a selected zombie onto a selected lane, then makes it do a bonus attack. Its closest plant counterparts are Bubble Up and Gardening Gloves.
Origins
Its name is based on the idiom "carried away", which means taking things too far, and how Super Brainz is shown carrying a zombie during its animation.
Statistics
Classes: Brainy, Sneaky
Tribes: Party Superpower Trick
Abilities: Move a Zombie. Then it does a Bonus Attack.
Set - Rarity: Premium - Legendary
Card description
It's just Super Brainz' way of sharing the wonder of flight with his fellow Zombies.
Strategies
With
This superpower should be used if you have an opportunity to strike your opponent when they haven't protected a lane, or to attack a plant with high strength but low health before it causes any problems. Good zombies to use this superpower are

Anti-Hero zombies such as Mini-Ninja to move them to an unprotected lane in order to deal a high amount of damage to your opponent, Shieldcrusher Viking to instantly empty your opponent's Super-Block Meter, or other zombies that have high strength. Apart from that, it can also be used on zombies that will activate their abilities when they hurt the plant hero, such as the afformentioned Shieldcrusher Viking, or zombies with attacking traits like Bullseye and Deadly, such as Smelly Zombie and Pool Shark.
However, if there is a Wing-Nut on the field, do not use this superpower unless necessary, as if you do, the zombie will just move to another lane without doing a bonus attack. This only applies when against a Solar hero.
Against
There isn't really a counter to this superpower, as your opponent moves the zombie to another lane, giving them a bonus attack, allowing them to either clear the plant in the lane or to damage you. You might not get hit if you play plants on every single lane, but the plant that blocks both the initial attack and the bonus attack is most likely going to be destroyed. However, you can turn this superpower into a worse Smoke Bomb by having Wing-Nut to nullify the bonus attack part of the superpower. However, this is only for Solar heroes.
Gallery
Old
In other languages
| Language | Name | Description |
| --- | --- | --- |
| English | Carried Away | |
| Simplified Chinese | 带你飞 | |
| Traditional Chinese | 屍帶走 | |
| French | Emportement | |
| German | Auf und davon | |
| Italian | Spazzato via | |
| Japanese | 自分にうっとり | |
| Korean | 운반 | |
| Brazilian Portuguese | Carregado | |
| Russian | Занос | |
| Spanish | Arrastrado | |