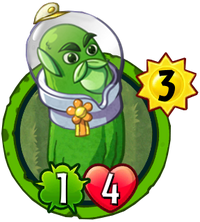 Captain Cucumber is a galactic legendary plant card in Plants vs. Zombies Heroes and a member of the

Mega-Grow class. He costs 3

to play and has 1

/4

. He does not have any traits, and his ability reduces the cost of Conjured plant cards by 1

and Conjures a legendary plant card every time he does damage. This ability stacks with each Captain Cucumber on the field and persists until all Captain Cucumbers are removed from the field. His closest zombie counterpart is Dr. Spacetime.
Origins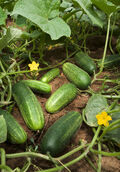 He is based on a cucumber (Cucumis sativus), a widely cultivated plant in the gourd family, Cucurbitaceae, and a captain, the commander of a ship, airplane, spacecraft, or other vessels.
His description makes a pun on two meanings of the word pickle, one being "a predicament," and the other being "a cucumber that has been pickled in a brine, vinegar, or other solution and left to ferment for a period of time."
Statistics
Class: Mega-Grow
Tribe: Fruit Plant
Traits: None
Abilities: Cards you Conjure cost 1 less. When this does damage, Conjure a Legendary card.
Set - Rarity: Galactic - Legendary
Card description
He's steered his crew through many a pickle.
Update history
Update 1.16.10
Strategies
With
This card is very weak for his cost, having very low strength allowing for him to be destroyed by tricks such as Rolling Stone and Weed Spray, as well as no beneficial tribes, except for the fact he can be Conjured by your opponent playing Exploding Fruitcake. His ability does not do much to compensate this, as conjuring cards, in general, is not even a good strategy to begin with, and his abysmally low stats can cost you a huge amount of tempo versus most heroes. However, if the source of cards is consistent, he would be more viable - For example, Captain Combustible can have Banana Launcher supply him with free Banana Bombs at the start of each turn, as these are also registered as conjured cards.
Being in the Mega-Grow class, you can use cards such as Time to Shine and Plant Food to add cheaper legendary cards into your hand or boost him with other cards, although these are better used on other plants. Instead, you would want to abuse his low strength and force the zombie hero to focus on something else, since none would know how his ability would turn out.
Here is a list of all the plants that Captain Cucumber can Conjure, as well as the cost that will appear when they are Conjured.
Against
This plant, only having 1 strength, is quite easy to deal with. He cannot trade effectively with zombies, and has a block-charging attack stat meaning you can let this attack your hero to charge your own block meter.
Because he only has 1 strength, reducing his strength or using

Armored zombies can prevent him from doing damage, but you should beware of boosting tricks, of which the Mega-Grow class has plenty, in which case you can ignore him and pressure other lanes, as exhaust isn't a good strategy. If the Plant Hero does choose to boost its strength, use a card like Rocket Science or Cut Down to Size to take him out.
As any

Hearty hero, Weed Spray, Rolling Stone, Celestial Custodian or Knockout can destroy him very easily, and if you are playing as a

Crazy hero, Exploding Fruitcake or Final Mission can destroy him as well. Note that most of the time, it is better to save your removals for something more threatening, such as Bananasaurus Rex, Gatling Pea, or threats in other plant classes.
You can also play Quickdraw Con Man to make your opponent think twice before playing this card or punish them for playing it, as Quickdraw Con Man will do 1 unblockable damage to them every time Captain Cucumber does damage.
Gallery
In other languages
| Language | Name | Description |
| --- | --- | --- |
| English | Captain Cucumber | |
| Simplified Chinese | 黄瓜队长 | "Cucumber Captain(team leader)" |
| Traditional Chinese | 黃瓜船長 | "Cucumber Captain(sea captain)" |
| Spanish | Capitán Pepino | |
Trivia
His destroyed animation is a reference to how astronauts without a helmet will suffocate from lack of air in space and other planets.

However, in his attacking animation, he takes off his helmet in order to spit seeds.

Strangely, he is seen having his cap inside his helmet on Grass Knuckles' "Cosmic Conjuring" deck despite having his cap on the outside of his helmet in-game.