For the version in Plants vs. Zombies 3, see Buttercup.

"

Plant Buttercup to butter attacking zombies.

"
Buttercup is a stunning wall plant in Plants vs. Zombies 2 introduced in the 9.5.1 update for the Buttercup Brawl Arena season. She throws butter at any zombie that attacks her, which stuns them and leaves a butter puddle on the tile (lasting for 120 seconds). Zombies that touch the buttered tile will be damaged and buttered, but the butter puddle will also be destroyed.
Origins

She is based on the plant of the same name from Plants vs. Zombies 3, who in turn is based on various flowers in the genus Ranunculus.
Her ability to leave butter puddles is based on her Plants vs. Zombies 3 appearance's Plant Food ability Drizzled Butter where she pushes back all zombies in a small area in front of her while leaving a trail of buttered tiles in front of her, which can stun zombies.
Almanac entry
Note: The stats shown below only apply to Level 1.
Buttercup

SUN COST: 25
RECHARGE: 10

TOUGHNESS: 900
DAMAGE: 100

Stun: Stun
FAMILY: Contain-mint

Buttercup butters butter onto attacking zombies, stunning them with butter. Butter!

Special: creates buttering butter splats
Buttercup's sweet as can be, but she packs a wallop! "I'm not cheap," she says, referring to her flat 25 sun cost. "I'm reasonable."
Buttercup

SUN COST: 25
RECHARGE: 10
TOUGHNESS: 900
DAMAGE: 100
Stun: Stun
FAMILY: Contain-mint
Buttercup butters butter onto attacking zombies, stunning them with butter. Butter!
Special: creates buttering butter splats
Buttercup's sweet as can be, but she packs a wallop! "I'm not cheap," she says, referring to her flat 25 sun cost. "I'm reasonable."
Upgrades
Plant Food effect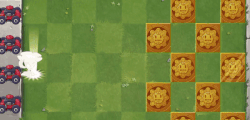 When given Plant Food, Buttercup will throw butter into her own tile and the three columns tiles in front of her, dealing 150 DPS to zombies, stunning them with butter for 12 seconds, and leaving butter puddles that last for 150 seconds.
Contain-mint effect
When boosted by Contain-mint, Buttercup will deal an additional 600 DPS with her normal attack, an additional 700 DPS with her Plant Food attack, her butter stun duration is increased to 20 seconds, and her Plant Food butter stun duration is increased to 25 seconds.
Level upgrades
Level
Seed Packets
Coins
Upgrades
Sun Cost
Recharge
Starting Recharge
Toughness
Damage*
Butter Stun Duration*
Normal
Plant Food
Normal
Plant Food
1
0
0
25
10 seconds
5 seconds
900 dps
100 dps
150 dps
8 seconds
12 seconds
2
50
9 seconds
1050 dps
150 dps
200 dps
9 seconds
13 seconds
3
100
8 seconds
1200 dps
200 dps
250 dps
10 seconds
14 seconds
4
200
1350 dps
250 dps
300 dps
5
300
7 seconds
1500 dps
300 dps
350 dps
11 seconds
6
400
1650 dps
350 dps
400 dps
15 seconds
7
500
1800 dps
400 dps
450 dps
12 seconds
8
600
6 seconds
1950 dps
450 dps
500 dps
16 seconds
9
800
2100 dps
500 dps
550 dps
13 seconds
17 seconds
10
1,000
5 seconds
2500 dps
600 dps
700 dps
15 seconds
18 seconds
*Applies to both initial attacks and the butter puddle.
Mastery upgrades
Chance to Boost
Damage Pierce
Strategies
Although Buttercup is a Wall plant, unlike most of her fellow Wall plants, she is not recommended to be used as a direct defense from the zombie horde, as she has rather low health. Instead, her rather quick recharge and low sun cost allows her to stall zombies effectively, giving you time to focus on other rows and reinforce defenses in them. Buttercup can also work as a cheap blocker to some other threats such as the Fisherman Zombie or Barrel Roller Zombie, as she is not exactly a plant that you would want to prioritize defending. She also deals a few damage, so she can somewhat be used to finish off zombies.
Buttercup's Plant Food effect throws up to 25 slices of butter in the three columns, and the butter stun duration/damage is longer/higher than normal; use it if there are many dangerous zombies (such as Zombie Bulls and All-Star Zombies) and critters (such as Zombie Chickens, Ice Weasels and Zombie Parrots). The more she is planted behind, the more butter she will throw during the Plant Food effect, but considering that she was generally planted in the front row as a defensive control plant, her Plant Food effect can't play its biggest role. In comparison with Kernel-pult's and Headbutter Lettuce's Plant Food effect, Buttercup's may be worse at first glance as it only affects three columns, but the butter Buttercup throws has the advantages of AoE (Area of Effect), leaving butter puddles and longer stun duration.
Buttercup and Aloe can be a very effective combo for maximum stalling. Aloe heals Buttercup as she gets bitten by the zombies, stunning the zombies, giving Buttercup time to heal, and also solving the problem of long healing intervals of Aloe. Buttercup is also more effective with weed plants, especially Iceweed. If Iceweed is planted before Buttercup, the chilled zombies will deal less damage to her while she will throw butter normally. This will also help the weed plant attack buttered zombies without stopping. As shown in Buttercup's Epic Quest, she can be used well with Shrinking Violet. This is because shrunken zombies will take more damage from Buttercup while they deal less damage to her. But it is worth noting that the zombies that are already buttered will not be shrunken, so it is advised to shrink the zombies in advance before Buttercups attack.
It is not recommended to use Buttercup in front of those who will not eat plants (such as Gargantuars), as she can only attack one time or she won't attack at all. Planting vine plants on top of Buttercup is also unreasonable, because she must be attacked by a zombie close-up to release her ability. Unlike Kernel-pult, using her with the Primal Peashooter is feasible, as though Buttercup can easily miss her shots, the butter she lobs damages and stuns attacking zombies necessarily.
Instant-kill Zombies that trigger Buttercups
Instant-kill Zombies that do not trigger Buttercups
Gargantuars,

All-Star Zombies

, Surfer Zombies, Jurassic Rockpunchers, Glitter Zombies, Zombie Kings, Rodeo Legend Zombies, Explorer Zombies, Torchlight Zombies
Turquoise Skull Zombies, MC Zom-B, Octo Zombies, Wizard Zombies, Cardio Zombies, Z-Mech, #caketank, Firebreather Zombies
It is a bad idea to use Buttercup in Pirate Seas and Big Wave Beach, as she will not leave the butter puddles in the water, making her only exert partial damage and control effect. It is noteworthy that the butter puddles will be removed if another grid item is spawned on the same tile. This makes a medium threat to Buttercups. In terms of plants, there are also grid items that cover her butter puddles, so you should carefully consider how to cooperate Buttercups with them.
| Zombie Grid Item that can cover butter puddles | Plant Grid Item that can cover butter puddles |
| --- | --- |
| Tombstones from Tomb Raiser Zombie, Frozen blocks from Hunter Zombie, Tents from Imp Porter, Scorched tile from Jurassic Rockpuncher, Surfboards from Surfer Zombie, Octopi from Octo Zombie | lava puddles from Lava Guavas, oil from Olive Pits, sap from Sap-flings, Lily Pad, green wisps from Jack O' Lantern's PF effect, Bombegranate seeds, Power Tiles (including those created by Tile Turnips), Gold Tiles (including those created by Gold Leaf), PF Poison Ball from Goo Peashooter, Iceblock from Ice Bloom |
When boosted by Contain-mint, Buttercup gains a great damage increase, which lets her kill a Conehead Zombie in one shot even at level 1. Furthermore, those who can't be killed by her will be stunned for 20 seconds with her butter, the time is enough for you to plant two Buttercups or one Wall plant. If using Plant Food during the time, the butter's stun effect will be even longer than normal, with sufficient control time and lots of damage.
Gallery
Plants vs. Zombies Wiki
has a
gallery
for Buttercup.
In other languages
| Language | Name | Description |
| --- | --- | --- |
| English | Buttercup | |
| French | Bouton d'or | |
| German | Butterblume | |
| Italian | Margherina | |
| Brazilian Portuguese | Douradinha | |
| Russian | Лютик | |
| Spanish | Ranúnculo | |
Related achievement
Trivia
She is one of the few plants to break the fourth wall based on her almanac description.
She is the only plant to debut in Plants vs. Zombies 3 before Plants vs. Zombies 2.
Buttercup is one of the six plants that have a food-related costume, the others being Hot Potato, Gold Leaf, Fire Peashooter, Snapdragon, and Cold Snapdragon.
Buttercup is the third plant that butters zombies, the first being Kernel-pult and the second being Headbutter Lettuce.
Not counting Magnet-shroom's ability to decapitate Punk Zombies, a level 5+ Stunion and a level 6+ Grave Buster, Buttercup is one of three plants in the Contain-mint family that actually deal damage, the others being Draftodil and Dazey Chain. In the Contain-mint family, Buttercup is the only Retaliation plant and her damage is the highest.
Buttercup is the fourth plant that has her idling animation similar to the watered or ready to level up animation, the first being Hocus Crocus, the second being Pea Vine, and the third being Blockoli.
Her butter puddles appears to be a recolored version of Sap-fling's sap puddle.
Unlike her appearance in Plants vs Zombies 3, she butters zombies upon taking multiple bites from zombies instead of just one bite. Also, she cannot butter zombies that both attacks from a distance and deals actual damage, but is able to lob her butter upon death.
There are several glitches for Buttercup:

She can leave butter puddles on water in Pirate Seas. Additionally, the butter puddles can't be removed when the tide rises in Big Wave Beach.
Mastery's Damage Pierce can't affect her damage, nor can Buffz & Bruisez. This may be intended.
Sometimes the butter she throws doesn't match her attack animation.
She can trigger a trap in one tile in front of her.
Her position on the lawn was shifted a little to the left. This has been fixed in the 9.7.1 update.
Sometimes the game will crash when a Contain-mint starts to boost Buttercup.
Her giggle and Plant Food effect attack sounds cannot be heard.
Zombie Chickens and Ice Weasels that are killed by Buttercups will stay on the lawn for a certain period of time.
Attacking zombies are bound to be damaged and buttered by butter from Buttercups, no matter where it falls to form a butter puddle. This may be intended.
See also