Buried Treasure is a triassic rare zombie card in Plants vs. Zombies Heroes and a member of the

Sneaky class. It costs 1

to play and has 2

/2

. It does not have any traits, and its Fusion ability Conjures a legendary card and reduces its cost by 1

, unless the zombie hero has 10 or more cards in their hand.
Origins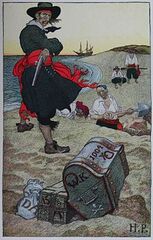 It is based on one of the popular beliefs surrounding pirates and Old West outlaws with the same name. Its description also alludes to this.
Statistics
Class: Sneaky
Tribes: Pirate Barrel Zombie
Traits: None
Ability: Fusion: Conjure a Legendary card, and it costs 1 less.
Set - Rarity: Triassic - Rare
Card description
Neptuna knew only one way to motivate an army of invading zombie pirates. Tell them about the secret treasure.
Update history
Update 1.24.6
Strategies
With
As with most conjuring cards, Buried Treasure is too random to be reliable and therefore you might need to maintain board control for the legendary to even make an impact. If Dr. Spacetime is on the field, you can further reduce the cost and increase your chances of playing it earlier, but even then, unless it is something like Intergalatic Warlord (who can work with literally any deck due to his powerful, persistent ability) or otherwise sygergizes with whatever you have there, it would not make a major impact and likely become a brick that you won't use for the rest of the match.
Its stats and tribes are the upsides, but there are better pirates anyway, and it is usually assumed that you will not use over other fighters, simple due to how its ability would count for naught otherwise. Since it does not benefit fighters played on it, any non-gravestone zombie can be played on it to get a cheap legendary.
For information, here are the cards that can be Conjured:
Against
If your opponent plays this card only, treat it as any other 1 cost card. On turn 1, you can use plants that have 2

 or tricks such as Banana Bomb, although the plant confronting Buried Treasure will be destroyed, or you can just use other cards like Haunted Pumpking or Blooming Heart to hit the opponent's Hero.
If it is played later, there is nothing you can do about its ability as your opponent can play a zombie on it without interference. If your opponent Fuses Buried Treasure, prepare the worst, as it can be anything ranging from things like a Zombot 1000, Teleport, or a turn 3 Space Cowboy.
Gallery