Buried Treasure is a triassic rare zombie card in Plants vs. Zombies Heroes and a member of the

Sneaky class. It costs 1

to play and has 2

/2

. It does not have any traits, and its Fusion ability Conjures a legendary card and reduces its cost by 1

, unless the zombie hero has 10 or more cards in their hand.
Origins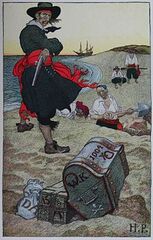 It is based on one of the popular beliefs surrounding pirates and Old West outlaws with the same name. Its description also alludes to this.
Statistics
Class: Sneaky
Tribes: Pirate Barrel Zombie
Traits: None
Ability: Fusion: Conjure a Legendary card, and it costs 1 less.
Set - Rarity: Triassic - Rare
Card description
Neptuna knew only one way to motivate an army of invading zombie pirates. Tell them about the secret treasure.
Update history
Update 1.24.6
Strategies
With
While it has on curve stats and the great Pirate tribe, its ability is quite bad. Conjure, being completely random, is hardly ever a good idea since what you get is completely out of your control. Most legendaries will not synergize with your deck , so try and avoid using its Fusion ability if possible.
Buried Treasure is a pirate, and can be used as just an on curve 1 cost card on a budget with Captain Flameface, though in a maxed deck, other 1 cost cards are recommended as there are better Pirates/Aggro cards. Its double effect with Unthawed Viking seems good at first, since it can

Freeze all plants on the field when played on Buried Treasure as well as boosting any Cryo-Yetis on the field and giving you a cost-reduced legendary, but in reality, your opponent can play more Plants after Unthawed Viking's effect.
For information, here are the cards that can be Conjured:
Against
If your opponent plays this card only, treat it as any other 1 cost card. On turn 1, you can use plants that have 2

 or tricks such as Banana Bomb, although the plant confronting Buried Treasure will be destroyed, or you can just use other cards like Haunted Pumpking or Blooming Heart to hit the opponent's Hero. If it is played later, there is nothing you can do about its ability as your opponent can play a zombie on it without interference. If your opponent Fuses Buried Treasure, prepare the worst. It can be anything ranging from things like Zombot 1000 to a turn 3 Space Cowboy.
Gallery