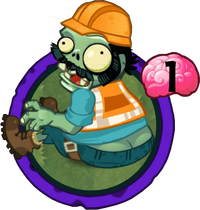 For the similar zombie in Plants vs. Zombies: Garden Warfare and Plants vs. Zombies: Garden Warfare 2, see Plumber.
Bungee Plumber is a basic common zombie trick card in Plants vs. Zombies Heroes and a member of the

Crazy class. It costs 1

to play, and its ability does 2 damage to a selected plant or the plant hero. Its closest plant counterparts are Banana Bomb and Berry Blast.
Origins
Despite its name, Bungee Plumber bears more resemblance to the Engineer more than the Plumber, and more specifically, the one in Plants vs. Zombies: Garden Warfare rather than Plants vs. Zombies: Garden Warfare 2 due to the mustache on his face.
Its name is a play on the words 'bungee jumper', as 'plumber' sounds similar to 'jumper'.
Statistics
Class: Crazy
Tribe: Professional Mustache Trick
Ability: Do 2 damage.
Set - Rarity: Basic - Common
Card description
Likes: Plumbing and adventure sports. Dislikes: Belts.
Update history
Update 1.16.10
▲

Tribe added: Professional
Strategies
With
Despite it seeming mundane and inferior to other tricks like Exploding Fruitcake, this is one of the strongest cards in the entire game, and auto-included in every serious crazy deck.
The best use for this trick is to destroy glass cannons like Zapricot, early plants that can be a threat later on like Pea Pod, or problematic plants like Repeater. Using this on your opponent when they have 2 health or less left is also a good idea, provided they don't block it. It can also be used to weaken your opponent or a plant, so they can be finished off by another attack, or to force a block, making way for a bigger hit to come. 
A good strategy with Electric Boogaloo is to use Bungee Plumber to damage a heavily boosted plant, and then use Evaporate to destroy it instantly, all for only 2 brains. However, do note that you can only do it only once, unless you get lucky with Quasar Wizard. As Impfinity, combining it with Zombot Sharktronic Sub can make it more of a threat, thus destroying a heavily boosted plant in a similar fashion to Electric Boogaloo.
Against

Crazy heroes will often bring this with them, so try not to use weak plants. Instead, use plants with more than 2 health such as Torchwood and Wall-Nut to lessen the impact of this trick. You can also play plants that will activate their abilities upon getting hurt or destroyed such as Galacta-Cactus, Mirror-Nut, Hibernating Beary, Pear Cub or Punish-Shroom, or deter/prevent the use of this trick with Black-Eyed Pea, Sportacus, Forget-Me-Nuts, Dark Matter Dragonfruit or Brainana.  Also, try to keep your health above 2, otherwise your opponent may play this to instantly defeat you. You can use healing cards, or play Body-Gourd or Soul Patch to protect you from Bungee Plumber.
Gallery
Old
In other languages
| Language | Name | Description |
| --- | --- | --- |
| English | Bungee Plumber | |
| Simplified Chinese | 蹦极管道工 | |
| Traditional Chinese | 彈跳管工 | |
| French | Plombier sauteur | |
| German | Bungee-Klempner | |
| Italian | Bungee-idraulico | |
| Japanese | ゾンビバンジー | |
| Korean | 번지 배관공 | |
| Brazilian Portuguese | Ameixacrobática | |
| Russian | Сантехник на тарзанке | |
| Spanish | Fontanero puentista | |
Trivia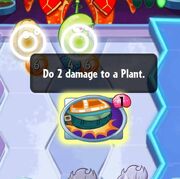 Even though it is a member of the Crazy class, Super Brainz can play it in the tutorial of the game.

In the tutorial, its description is "Do 2 damage to a Plant." and its card appears to be a premium - uncommon card.
However, as of update 1.14.13, this always appears whenever the trick is played on a plant.
It is also possible to get this during update 1.14.13 via a glitch on Mad Chemist and Eureka. The card is named "Plumber," is not in any tribes, and cannot target the plant hero.