Bulb Bowling is a conjectural name for this article.
If you know the official name or have a better name or
translation for it, please contact a wiki
administrator
to change it.
Not to be confused with Bowling Bulb.
Bulb Bowling is a Brain Buster exclusive to Big Wave Beach. It is based on the Wall-nut Bowling mini-game from Plants vs. Zombies. It is based on the obtainable plant called the Bowling Bulb. After the 1.8 update of the Chinese version, these levels were removed from the game. They are still available in the international version. There are four types of bulbs (Turquoise, Blue, Orange, and Energized), which deal different damage. The player must attack the zombies by using the bulbs, placing it behind the sign which shows a struck out bowling ball, and rolling it towards the zombies. The bulbs will ricochet when they hit a zombie. This Brain Buster is available in Day 8 and Day 24 of Big Wave Beach. However, it can also be played in Gem Jam.
Levels
Gallery
Walkthrough
Trivia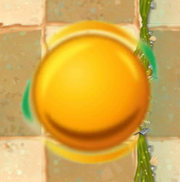 The energized bulb seems to work like Explode-o-nut, except it keeps on rolling like a regular bulb and has a smaller explosion radius.
The energized bulb is the same bulb that is shot from Bowling Bulb when Plant Food is applied.
There is only one Deep Sea Gargantuar in every level, which always appears near or at the last flag.
There were going to be five types of bulbs, but only four were used in the final version of this brain buster. The fifth one would have been a giant bulb, similar to Giant Wall-nut in Wall-nut Bowling 2.
The seed packet for the energized bulb is basically the aquamarine bulb's seed packet with an added electric graphic.
The direction the bulbs go is by lane. The top lane will always go downwards. The bottom lane will always go upwards. The other lanes, however, alternate from upwards to downwards.
The bulbs in this Brain Buster can hurt submerged Snorkel Zombies, even though they don't normally do this in other levels.
See also
†: Strategy page
*: Unconfirmed name
Community content is available under
CC-BY-SA
unless otherwise noted.