Arcane: League of Legends - The Loop
Play Sound

This subject currently has no proper strategy associated with it. If you have figured out a good strategy, please
add it
or the zombies will eat your brains!

Bud-minton (杜英投手; pinyin: dùyīng tóushǒu) is a Lobbed-shot plant in the Chinese version of Plants vs. Zombies 2 introduced in the v2.4.83 update. It lobs badminton shuttlecocks at zombies and has a different attack depending on how far away zombies are to it.
About
Bud-minton is a lobbed shot plant that attacks by serving a badminton shuttlecock then hitting it into a zombie. The shuttlecock will bounce to other zombies in the lane they are in, provided they are within the proximity of the projectile. This makes the plant work in a similar fashion to A.K.E.E. and R.A.D Missiles.
When a zombie is less than three tiles away from it, it will fire a shuttlecock high up in the air, and then spike it down, dealing heavy damage to the targeted zombie with a chance to instantly kill it if at low enough health.
Origins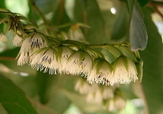 Bud-minton is based on the Elaeocarpus sylvestris, otherwise known as the "Japanese blueberry", but more particularly its flowers, which resemble badminton shuttlecocks.
Its name is a portmanteau of "bud", referencing how it is a flower, and "badminton", the sport whose "ball" Bud-minton's projectile resembles.
Almanac
Template:Almanac/Bud-minton
In English:

Will bounce shuttlecocks off of zombies when they're far away, and will kill lower-health zombies when they're at close range.

Plant feature: white plant

Bud-minton is a national first-class athlete, and in every encounter with a new plant will ask, "Exercise is good for your health, would you like to play me in a game of badminton?"
Upgrades
Plant Food effect
When given Plant Food, the plant will unleash a tornado similar to Fanilla that will destroy the first zombie in its path when the Bud-minton next serves.
Level upgrade
Level
Upgrades
Description

Distance Training
Spiking range changes from 3 tiles to 4 tiles.

Combat Training
Bud-minton gains 50% more attack power and health (150% of initial).

Strength Training
Spiking target changes from a singular zombie to an entire tile.

Cell Activation
Bud-minton gains another 50% more attack power and health (200% of initial).

Ability Awaken
Bud-minton may be boosted when planted.

Fighting Power
Bud-minton gains another 50% more attack power and health (250% of initial).

Spike Specialization
Percentage for an instant defeat changes from 40% of a zombie's health to 50%.

Fighting Power
Bud-minton gains another 50% more attack power and health (300% of initial).
Gallery
Videos
See also