No Man's Sky Update - The Loop
Play Sound
For other uses, see Buckethead Zombie (disambiguation).
Buckethead Zombies are zombies with buckets on their heads, increasing their toughness. The bucket does not weaken the plants' effects though. One of their weaknesses is the Magnet-shroom, as it removes the buckets, rendering these zombies as tough as normal zombies.
Overview
This zombie is first encountered on Level 1-8. It is the fifth zombie to be found in Adventure Mode, and the last to be found in Day levels. Like normal Zombies and Conehead Zombie, Buckethead Zombies have Ducky Tube variants, and they can come in surprise attacks at the Pool, Fog or Roof areas.
The Buckethead Zombie absorbs 1300 damage per shot, and his appearance changes upon absorbing 350, 700, 1100 (when the bucket is destroyed), and 1235 (When his arm falls off) before dying at 1370 DPS.
Suburban Almanac entry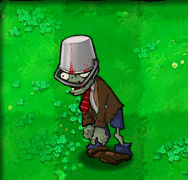 Buckethead Zombie
His bucket hat makes him extremely resistant to damage.
Toughness: high
Weakness: magnet-shroom
Buckethead Zombie always wore a bucket.
Part of it was to assert his uniqueness
in an uncaring world. Mostly he just
forgot it was there in the first place.
 (China only)  (Archived content)
乞丐僵尸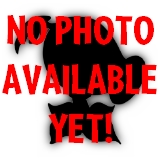 他的瓷碗能有效抵挡弹丸的冲击
强度: 高

僵尸们都不忍心把乞丐僵尸送上战场,他们害怕听到"碎了一个,碎了两个…"。
In English:

Beggar Zombie

His china bowl can efficiently block projectiles.
Toughness: high
Zombies do not want to send him to the battlefield, they are afraid of hearing "One shattered, and another one..."
Encounters
Strategies
General
For most beginners, the Buckethead Zombie is highly annoying as it often appears in huge waves or in waves with other kinds of zombies. In the early levels, it is good to have two Peashooters against it. A Snow Pea with three Spikeweeds is sufficient, due to the slowing effect which makes the zombie spend more time walking on the Spikeweeds.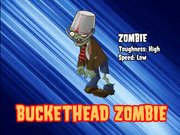 Although the Snow Pea is also a good weapon of choice, it is not recommended to do so for the sake of sun being wasted if it doesn't work. It is advised, however to use Threepeaters, Repeaters, or Gatling Peas in conjunction with a Torchwood. The Suburban Almanac advises the use of a Magnet-shroom, reducing the maximum absorption to 270 damage per shot; however, it is not needed. You may want to use instant kills for them, such as the Squash, Potato Mine , and Tangle Kelp . These zombies make up the majority of the offense in Survival: Endless. One Snow Pea and one Peashooter is sufficient to kill a Buckethead Zombie, mainly due to the slowing effect. If they appear in the Night levels, you can use the Hypno-shroom on the Buckethead Zombie if your defenses are not yet set up. Using a Wall-nut or Tall-nut and a Repeater works, but the Wall-nut or Tall-nut will be eaten or severely damaged if you try that.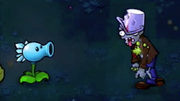 Whenever one appears, refrain from breaking more vases within the same lane. A Potato Mine can be used if given enough time and a Squash or Wall-nut if not. Otherwise, a Snow Pea paired with either a Peashooter, Left-Facing Repeater, or Threepeater can work, although it is not as efficient.
A single Backwards Repeater with a Wall-nut is sufficient if the zombie is far back enough.
Avoid use around nearby Magnet-shrooms, a Squash in the same lane, or a Chomper that is not chewing. Otherwise, deploy when large (but not massive) amounts of damage need to be absorbed. A Snow Pea plus one or two other plants defending a lane may result in the Buckethead Zombie's death, so be careful there. These are one of the most useful weapons in your arsenal (second to the Ladder Zombie), being cheap while being able to absorb a large amount of damage.
Gallery
Plants vs. Zombies Wiki
has a
gallery
for Buckethead Zombie.
In other languages
Language
Name
Description
English
Buckethead Zombie
Simplified Chinese

铁桶僵尸




乞丐僵尸

in Plants vs. Zombies: Great Wall Edition
Traditional Chinese

鐵桶殭屍

French
Zombie seau
German
Eimer-Zombie
Italian
Zombi secchione
Japanese

バケツヘッドゾンビ

Spanish
Zombi caracubo
Trivia

In Plants vs. Zombies Risk, the Buckethead Zombie's card does not have a red stain on its bucket.
The red stain on the bucket could be one of the main reasons why Plants vs. Zombies is rated E10+ by the ESRB. In the official rating summary of the game, it describes that "one variety of zombie wears a bucket with a small streak of blood on it."

However, according to early concept art (right of this paragraph), the buckethead zombie was designed as a painter with the empty bucket over his head, and therefore the stain was simply red paint. The painter design never made it into the final game, however.

The Bucket is available as a hat for the player's avatar in the Xbox Live Marketplace. It costs 160 Microsoft Points.
As seen in the concept design for Buckethead Zombie posted on the Plants vs. Zombies Facebook Page, the "blood" may be red paint, as it was supposed to be a painter zombie who used its paint bucket as a helmet. It is unknown if this is still considered canon, though.
Buckethead Zombie, Conehead Zombie, Trash Can Zombie, and Screen Door Zombie are the only zombies that can degrade into a normal Zombie.

However, that is only appearance-wise; Trash Can Zombie will be slower than the other three.

If Plants vs. Zombies: Game of the Year Edition was purchased before May 5, 2011 on Steam, players of Team Fortress 2 will be awarded with a Brain Bucket, a promotional cosmetic item for the Soldier.
During the final wave of a Pool or Fog level on the DS version, the Buckethead Zombie's bucket does not have a third stage of damage if it appears as an Ambush Zombie.
When the bucket gets hit, it makes a "clank" sound.

This does not happen with certain projectiles such as peas ignited by Torchwood.

Buckethead Zombie is the only zombie that can be used in all of the I, Zombie levels.
Despite that Bucket and Screen Door have the same health, he takes three direct hits from the Wall-Nut to defeat while the Screen Door Zombie takes four (under normal circumstances)
Buckethead Zombie is the first zombie encountered that has a metal object.