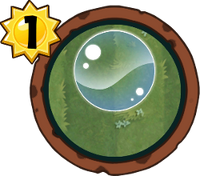 Bubble Up is a super-rare plant superpower trick card in Plants vs. Zombies Heroes, and a member of the

Guardian class. It costs 1

to play, and its ability moves a selected plant onto a selected lane, and gives it +4

. Its closest zombie counterparts are Carried Away and Smoke Bomb.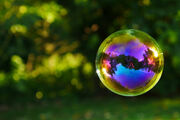 Its name is a portmanteau of the idiom "buckle up," and "bubble," referring to the bubble that appears when it is played.
StatisticsEdit
Class: Guardian
Tribe: Superpower Trick
Abilities: Move a Plant. It gets +4.
Rarity: Super-Rare
Card descriptionEdit
Who doesn't like bubbles? Zombies...that's who.
Update historyEdit
Update 1.2.12Edit
Update 1.16.10 Edit
▲ Ability change: Move a Plant. It gets +3. → Move a Plant. It gets +4.
StrategiesEdit
You can use this card to make frail plants like Mushroom Ringleader or Magnifying Grass have extra health so they can take more hits before being destroyed, or make a tough plant like Soul Patch even more difficult to destroy. It can also be used on Health-Nut and Pecanolith as it will not only add extra health, but will also make it do more damage when it attacks. If possible, move a plant into a plant environment to further benefit it.
This trick is frustrating in the fact that it can save a plant you want to destroy from being destroyed. While it can't be directly countered, having many
Deadly zombies on the field can pressure your opponent. You can also play destroying tricks like Locust Swarm to deal with the boosted plant afterwards. Bouncing the plant can also remove its health boost.