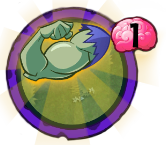 Brute Strength is a super-rare zombie superpower trick card in Plants vs. Zombies Heroes and a member of the

Crazy class. It costs 1

to play, and its ability gives a selected zombie +3

. Its closest plant counterpart is Blazing Bark.
Statistics
Class: Crazy
Tribe: Superpower Trick
Ability: A Zombie gets +3 .
Rarity: Super-Rare
Card description
Is there any other kind?
Update history
Update 1.2.12
Strategies
With
A good use for this trick is to boost zombies that have a good amount of health but lack strength, like Jester, Flag Zombie, or Headstone Carver. Another good way to use it is to play it on zombies with

Frenzy or

Strikethrough since they are able to directly attack your opponent. Playing it on Barrel of Deadbeards will put your opponent into a dilemma: if they attack it, it will do 1 damage to all plants and zombies on the field and make a Captain Deadbeard, and if they do not, it will constantly do 3 damage.
But while this superpower can make a zombie hit extremely hard, you still need to keep track of its health as Brute Strength only increases strength.
Against
Since this trick only increases strength but not health of the zombie, you do not have to worry when there is a plant to take care of it, so damaging tricks are a good answer.. Alternatively, you can also Bounce that zombie to completely remove the boost or

Freeze it. Also, due to the large amount of strength it gives a zombie, it will usually always be vulnerable to Shamrocket and Doom-Shroom as a result, although the latter should be played carefully.
Gallery
Old
See also
Community content is available under
CC-BY-SA
unless otherwise noted.