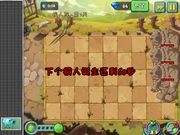 Bronze Matrix (铜人阵; pinyin: Tóng rén zhèn) is a conveyor-belt brain buster in the Chinese version of Plants vs. Zombies 2 that is exclusive to Kongfu World. The main objective here is to defeat the Gargantuar Bronzes, which start off as bronze statues. A time limit will be given to the player and if the time runs out, one of the Gargantuar Bronzes will break free from petrification. Otherwise, if the player destroys the bronze statues before the Gargantuar Bronze itself is freed, then the Gargantuar Bronze in the statue will also be destroyed as well. Since there are no lawn mowers, the player needs to rely on the plants provided via the conveyor-belt.
Levels
Trivia
The rate of plants coming on the conveyor belt is similar to the one in Plants vs. Zombies.
Destroying all the statues before the end of the level will cause all the other zombies to instantly lose their heads.
†: Strategy page
*: Unconfirmed name