Raise a Floppa - The Loop
Play Sound

"

You can see Blover's work in "Bulb Fiction," "Rooty," and "Finding Flower." He also teaches stunt class on Tuesdays at the community center.

"

—Blover's Plants vs. Zombies 2 almanac description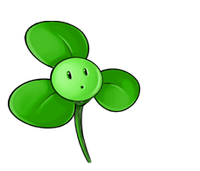 Blover is a recurring character within the Plants vs. Zombies franchise. Blover is a clover-based plant that is able to blow away fog and any airborne zombies out of the sky.
As of Plants vs. Zombies 3, Blover has appeared in four games.
Origins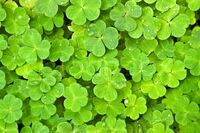 Blover is based on the shamrock, a young sprig of the clover, a group of plants belonging to the genus Trifolium.
His name is a portmanteau of the words "clover," the plant he is based on and "blow," referring to Blover's ability to generate wind that can blow airborne threats away.
History

In the original Plants vs. Zombies game, as well as all Chinese spin-off games based on it, Blover is the third plant unlocked in the Fog area.
He blows away any fog and Balloon Zombies on the screen, effectively combining Plantern and Cactus' abilities. He isn't a permanent defense, but works as a clutch plant by deleting his targets with no setup required.

Blover reappears in Plants vs. Zombies 2 and has been greatly improved compared to his Plants vs. Zombies appearance.
He is 50 sun cheaper and now can combine with plants that can send zombies into the air such as Chard Guard, the only exceptions being Spring Bean and Boingsetta. He can also blow away a variety of aerial zombies such as airborne imps and Prospector Zombies.
He can, like Hurrikale, combine with Dandelion to release a barrage of seeds from two of them. However, these Dandelions will have to recharge following the attack, leaving them sitting until their "hair" regenerate.

Blover's latest reappearance was in the Chinese-exclusive turn-based game Plants vs. Zombies: All Stars as the first plant in the Clover line, evolving into Four-Leaf Blover and then into Fan Blover. He attacked by blowing air that damaged every zombie on the screen.
His ability was Maelstrom, which dealt 270 additional damage to all enemies.
His soulmates were members of the Spray Mushroom line for a health boost, members of the Tail line for a boost to their critical hit chance, and members of Choy line and Sunflower lines together for a damage boost.

Blover's latest appearance is in Plants vs. Zombies 3 where he appears as a perk plant. When a zombie reaches the player's house the player will receive a prompt that allows Blover to blow all zombies back to the beginning of the lawn in exchange for a large amount of in-game currency.
If the player opts not to use Blover, they will lose the level as the zombie will enter the player character's house.
Gallery
Plants vs. Zombies Wiki
has a
gallery
for Blover.
Trivia
See also
V ·

T

· E

Recurring characters