Bloomerang is a recurring character within the Plants vs. Zombies franchise. They fire boomerangs at zombies which hit up to three of them before returning back to Bloomerang, damaging them twice.
As of Plants vs. Zombies Heroes, Bloomerang has appeared in three games.
Origins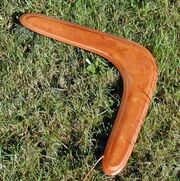 Bloomerang's name is a portmanteau of "bloom," one or more flowers on a flowering plant and "boomerang," a hunting tool used by indigenous Australians.
History

Bloomerang's first ever appearance is in Plants vs. Zombies 2, unlocked in Ancient Egypt. Bloomerang hits with a three-hitting boomerang that returns to them, damaging the zombies twice. In the international version, upgrading him can increase the amount of targets he can hit while in the Chinese version, upgrading him can decrease his cost per pre existing Bloomerangs on the screen.
Bloomerang is the first new plant to be introduced in the game.

Bloomerang next appears in the Chinese-exclusive turn-based game Plants vs. Zombies: All Stars as the second plant in the boomerang line. He attacks by flinging boomerangs which attack enemies ahead of him twice. When his his Plant Food/Anger effect is activated, he attacks the front most enemy of each row, stunning them for two turns, but has the chance to stun himself in the process.
He evolves from Frisbee Shooter and evolves into the Meteor Hammer Masher.

Bloomerang's latest appearance is in the turn-based mobile game Plants vs. Zombies Heroes as a Premium Uncommon plant in the

Solar class.
Bloomerang costs 4

and has 3

/3

stats with

Strikethrough. Their strikethrough ability is their most defining feature, but is easily outclassed.
Gallery
Plants vs. Zombies Wiki
has a
gallery
for Bloomerang.
Trivia
Community content is available under
CC-BY-SA
unless otherwise noted.