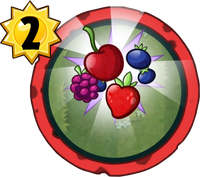 Not to be confused with Berry Blaster.
Berry Blast is a basic common plant trick card in Plants vs. Zombies Heroes and a member of the

Kabloom class. It costs 2

to play, and its ability does 3 damage to a selected zombie or the zombie hero.
Its closest zombie counterpart is Zombot's Wrath.
Statistics
Class: Kabloom
Tribe: Berry Trick
Ability: Do 3 damage.
Set - Rarity: Basic - Common
Card description
Vicious AND nutritious.
Update history
Update 1.6.27
Design change: The berries now explode and leave juice similar to Cherry Bomb.
Strategies
With
Berry Blast is a cheap and safe way to inflict 3 damage on a zombie fighter or the zombie hero. It is best used to remove or heavily damage a zombie fighter, or flat out finish the zombie hero off with this trick if they have 3

or less. Berry Blast also synergizes well with the berry synergy cards: Sergeant Strongberry makes the zombie take 5 damage instead of 3 (if it does not have the

Armored trait), High-Voltage Currant gets +1 strength, while Strawberrian does damage to zombies on the lanes adjacent to him.
It is not recommended to use this trick on zombies with the

Armored trait, and definitely not on the ones that are shielded, as the damage done by it will be reduced or nullified. It is much more favorable to use other instant-kill cards in these scenarios, such as Whack-a-Zombie or Shamrocket.
Against
Your opponent might use this on any of your zombies that have 3 health or less, and therefore can destroy some of your tough early-game fighters, such as Conehead, Surfer Zombie, and Toxic Waste Imp. As such, it is recommended to use tricks that can boost your zombies' health above 3 so that this trick won't destroy them. Using

Armored zombies or cards that can shield them can reduce the effectiveness of this trick as well. You may also want to keep your health above 3 or else your opponent may use this to instantly defeat you. If you don't have any healing cards, however, you can also play Planetary Gladiator, which can protect you from Berry Blast twice until he is destroyed.
Gallery
Old
See also
Community content is available under
CC-BY-SA
unless otherwise noted.