Beet It is an achievement in Plants vs. Zombies 2. It requires the player to pass a level by planting Phat Beet only, not planting any sun-producing plants. It is worth 5 points on Game Center and 500 XP on Google Play Games for Android devices.
Origins
Its name is a portmanteau of Michael Jackson's "Beat It", a song released in the 1980s and "beet," referring to the Phat Beet and the fact that this achievement involves the Phat Beet. Coincidentally, "Beat It" was also the name of a scrapped achievement in the original game.
Strategies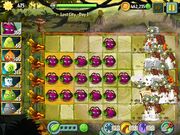 The easiest way to earn it is to play Pirate Seas - Day 22 and fill the two leftmost columns with Phat Beets.
Alternatively, play Lost City - Day 1 and start by planting Phat Beets on Gold Tiles, since you cannot earn the achievement if you plant a Sunflower. Then, continuously plant Phat Beets throughout the level, but try to protect the ones on the Gold Tiles, as they are your main source of sun production.
If necessary, a lawn mower can be released to kill zombies and will not interfere with the achievement goal, despite the description saying "Complete a level using only Phat Beets to defeat zombies."
Trivia
The player will not get the achievement if they plant Imitated Phat Beets, as it will count as planting another plant.
Planting sun-producing plants will cause the player to not get the achievement, even though they do not damage the zombies.
This achievement is similar to Banana Storm.
The eyes of the Phat Beet in the achievement's icon are brighter than the eyes of the Phat Beet in-game.
See also
Community content is available under
CC-BY-SA
unless otherwise noted.