For the version in Plants vs. Zombies Heroes, see Baseball Zombie.
Baseball Zombie is a zombie that appears in Homerun Derby, which is exclusive to the Nintendo DS version. It requires one instant kill or a basketball shot to defeat. As a result of this, its toughness is unknown.
Similarly to many other zombies, Baseball Zombie's main target is the house. When the player reaches at least 27 home runs, its speed will increase.
Almanac entry
Note: The following almanac entry was created using official text[1] from the Plants vs. Zombies: Sticker Album book and does not appear in-game.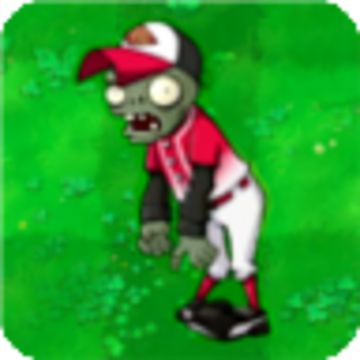 Baseball Zombie
He can't keep his eyes on the ball... they're looking in opposite directions.
It takes one instant kill or one baseball shot at it to defeat it. The Baseball Zombie's main target is the house. After a while, the Baseball Zombie's speed will increase.
Encounters
Strategies
This Zombie is easy to deal with, as long as you can fling the basketballs back at the Zombies, you'll be able to fight them off easily. They get faster later on, however. Use Chomper and Potato Mine to deal with one or a few Zombies at once, and use Wall-nut to stall Zombies to group up so one Potato Mine can clear them out. Cherry Bomb and Jalapeno should be used to deal with large groups.
Gallery
Trivia
When the player has 27 home runs, it will run faster than Dolphin Rider Zombies.
At the bottom of the page with the online version of the game, the player can see this zombie, although it does not appear in the online version nor in the PC version.
In its HD picture, it has a glove, but in the game, it does not.
See also
References