This article is under construction and requires more content. You can help our wiki by
expanding it
.
Bart Barian is a character in Plants vs. Zombies: Battle for Neighborville. He resembles an Imp wearing the "Fuzzy Fanatic" set and is found in both the Stirring Swamp area in Weirding Woods and the Up-Down-Uptown area in Town Center. When the player first talks to him, he will give them his Hunting Permit, allowing them to participate in the region's Bounty Hunts. If the player completes all three of the area's Bounty Hunts, he will give them a large amount of coins and Marshmallows/Tacos. His plant counterpart is Air Ron.
Origins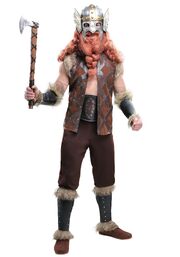 His name is a pun of Bart, a given name, and "barbarian," meaning "relating to people, countries or customs perceived as uncivilized or inferior."
List of Bounty Hunts
In-game tips
Below is a list of tips Bart Barian gives the player about each of the Bounty Hunts if they talk to him again.
TBA
Trivia
If the player listens carefully, his voice sounds similar to an Acorn.
He is Z-Tech's Director of Brainz Pillaging.
Monty, an Imp found in Giddy Park, mentions that Bart is his brother.