Raise a Floppa - The Loop
Play Sound


For a similar plant in the Chinese version of Plants vs. Zombies 2, see Banana Dancer.
Banana Tree (芭蕉; pinyin: bājiāo) was a plant in Plants vs. Zombies Online. It attacked zombies by throwing its two leaves as boomerangs in a shortened five-tile range.
When it lost half of its total health, it became wilted and threw only one leaf.
Origins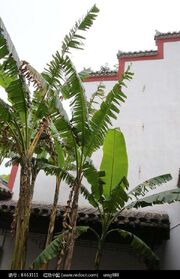 Banana Tree is based on the Musa basjoo tree, more commonly known as the "Japanese banana", a banana tree originating from southern China that is commonly cultivated in parts of Japan for its plant fibers.
Almanac
芭蕉
四平八稳的植物家伙
保持有效的攻击距离
塔防:
芭蕉会攻击离它不是太远,但也不是太近的目标。当一大波僵尸到来的时候,芭蕉也是一个好帮手

技能: 无
消耗阳光: 150
伤害: 轻微
冷却时间: 较短
In English: Banana Tree

A calm and stable plant.
Maintains an effective attack distance.

Tower defense:
Banana Tree attacks targets that are not too far, but not too close either.
When a wave of zombies arrives, Banana Tree is an excellent helper.

Skills: None
Sun cost: 150

Damage: Light
Recharge: Fast
Plant Food effect
When fed Plant Food, Banana Tree threw both of its leaves and dealt damage in the 3x4 tile area in front of it. If it was wilted, it threw its one leaf in the same range.
Strategies
Banana Tree works the same way as Fume-shroom with a few gameplay differences. Its range is five tiles compared to Fume-shroom's four tiles, however, it costs 25 sun more than the aforementioned plant and does half its initial damage when half of its total health is gone.
Ultimately, strategies where Fume-shroom is at its most effective should also apply to this plant. The player should also keep in mind that both plants have completely different Plant Food effects, so strategies where the player uses Power Tiles on Fume-shroom will not work with this plant.
Gallery
Trivia
Its projectiles acted similar to Bloomerang's projectiles.

However, unlike Bloomerang, each projectile just damaged zombies once each time.

Its pseudostem slightly resembles a banana, the fruit it produces.
See also