Raise a Floppa - The Loop
Play Sound

This subject currently has no proper strategy associated with it. If you have figured out a good strategy, please
add it
or the zombies will eat your brains!

Bambrook (竹小弟; pinyin: zhú xiǎo di) is a monthly special plant in the Chinese version of Plants vs. Zombies 2. He pushes zombies back for a short distance when he meets a zombie for the first time. Then he will block the zombies until there are no zombies in front of him. He can heal himself, so he can stand a zombie for a long time.
Origins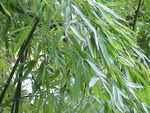 Bambrook is based on the phyllostachys aurea, known as fishpole bamboo or golden bamboo. It is native to Fujian and Zhejiang in China.
Bambrook's Chinese name is 竹小弟. The 小弟 part actually means a little brother or an inferior guy. Its English name 'Bambrook' is also a portmanteau of Bamboo and 'brook', meaning 'endure', also referring to its ability.
Its costume is a reference to the headband of Sun Wukong, who is also known as the Monkey King.
Almanac entry
竹小弟

Bambrook

竹小弟可以顶住僵尸,阻止它们前进。

特点:僵尸越少,能坚持的时间越长。
特点:在没有顶住僵尸的时候会逐渐恢复。
植物特征:绿色植物、武艺高强
竹小弟自小开始跟着邻镇的一个戏班子跑腿,自小跑龙套的他希望有一天成为班里的台柱子,于是他苦练各种功夫,终于有一天练成了连续后空翻的看家本领。皇天不负苦心人,竹小弟终于接到了第一场他担纲主角的戏,主要剧情是这样的:有一天,在森林中一只凶猛的狼绑架了小猪,猪妈妈勇敢地寻找狼的巢穴来救它……
竹小弟 (Bambrook)
Sun cost: 75
TOUGHNESS: Very High
RECHARGE: Sluggish
竹小弟可以顶住僵尸,阻止它们前进。
特点:僵尸越少,能坚持的时间越长。
特点:在没有顶住僵尸的时候会逐渐恢复。
植物特征:绿色植物、武艺高强
竹小弟自小开始跟着邻镇的一个戏班子跑腿,自小跑龙套的他希望有一天成为班里的台柱子,于是他苦练各种功夫,终于有一天练成了连续后空翻的看家本领。皇天不负苦心人,竹小弟终于接到了第一场他担纲主角的戏,主要剧情是这样的:有一天,在森林中一只凶猛的狼绑架了小猪,猪妈妈勇敢地寻找狼的巢穴来救它……
In English:

Bambrook defends and holds zombies back.

Special: If there are fewer zombies, he ables longer to adhere to the time.
Special: When it is not attacked, he will heal gradually itself.
Plant feature: Green plant, Master of martial arts

Bambrook's childhood has been doing errands in a troupe of the adjacent town. He hoped to become a leading actor one day, so he learned all kinds of Martial Arts. Finally one day he mastered his exclusive skill, Consecutive Backflip. His efforts pay off. He finally played as a leading role in a drama, the plot of which is: "One day in the forest a ferocious wolf kidnapped a pig. His mother was brave and looked for the wolf's lair to rescue him..."
Upgrades
Plant Food effect
When fed with Plant Food, Bambrook heals itself to full health, then jumps into the air and spins around, knocking back the closest zombies to it.
Costumed
When it spins in the air, it takes the closest zombie with itself, damaging them.
Level upgrade
Level
Upgrades
Description

Perseverance
坚韧不拔
Bambrook gains a 15% health boost.

Combat Training
战斗训练
Bambrook gains 50% more attack power and health (150% of initial).

Steady as a Rock
稳如磐石
Bambrook gains a 30% health boost.

Cell Activation
细胞活化
Bambrook gains another 50% more attack power and health (200% of initial).

Ability Awaken
能力觉醒
Bambrook may be boosted when planted.

Fighting Power
战斗能力
Bambrook gains another 50% more attack power and health (250% of initial).
Gallery
Plants vs. Zombies Wiki
has a
gallery
for Bambrook.
Trivia
He is the second defensive plant that pushes zombies back, with the first being Chard Guard. Because of this, he can instantly defeat Imps and Swashbuckler Zombies on plankless lanes if planted on the rightmost tile.
He is the first plant to have a special death animation (excluding level 2 and 3 Tall-nut); he will break in half when he dies.
His internal name is "sugarcane," even though, visually, it is not one.