Bam-Bam-Boo is a Plant Battle Leader in Plants vs. Zombies: Battle for Neighborville. He resembles a Citron wearing the "Pand-Orange" Costume.
Origins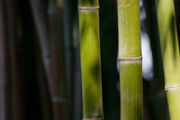 Bam-Bam-Boo's name is a portmanteau of the onomatopoeia "Bam Bam," referencing his Juice Cannon, and "bamboo," an evergreen perennial plant that is the main source of food for the Giant Panda, the animal Bam-Bam-Boo outwardly resembles.
Strategies
Unlike normal Citron enemies, Bam-Bam-Boo has a much more aggressive AI in which he will use Spin Dash every few seconds, something not observed in other Citron AI enemies. Also, he appears to have a damage buff as hinted by the "up arrow" sprites that appear near him. Try to use the more mobile characters such as the Scientist or Engineer to avoid getting hit by the Spin Dash, which makes it easier to take him down. Space Station can also be useful in case he pulls out his shield, as the Crater Maker can easily penetrate through it.
Gallery
Community content is available under
CC-BY-SA
unless otherwise noted.