Raise a Floppa - The Loop
Play Sound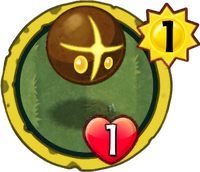 Astrocado Pit is a token plant card in Plants vs. Zombies Heroes and a member of the

Solar class. It costs 1

to play and has 1

. It does not have any traits, and its ability transforms it into an Astrocado at the start of the next turn.
Origins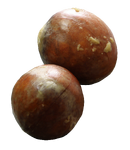 It is based on the pit of an avocado (Persea americana), a member of the flowering plant family Lauraceae.
Its name is a portmanteau of "Astrocado," the plant fighter it originates from, and "avocado pit," the real-life seed it is based on.
Its description includes "the pits," which is a term used to describe the worst possible situation. It is also a reference to avocados having pits.
Statistics
Class: Solar
Tribe: Seed Plant
Traits: None
Ability: Start of turn: This transforms into an Astrocado.
Set: Token
Card description
Getting defeated is the pits.
Update history
Update 1.16.10
Added to the game.
Description change: Was originally Give him time. He'll grow on you.
Strategies
With
While this plant is very cheap, it is also incredibly vulnerable as it only has 1

. And since it also transforms into a powerful plant, your opponent will likely prioritize on destroying it. If you manage to keep it alive, however, you regain your Astrocado for a cheap price. This often causes a battle between you and your opponent to try to stop one another from keeping/destroying Astrocado Pit.
While the easiest way to protect it is play it on an empty lane, Astrocado Pit will still be vulnerable to zombie tricks such as Rolling Stone, Nibble, and Bungee Plumber. However, this can be remedied by boosting its stats or limiting trick usage by playing certain cards. Do not use boosting tricks, however, as their bonuses do not cary over after the transformation.
Each plant hero has their own ways to protect this plant:
Against
Astrocado Pit is a relatively easy plant to destroy, as its low health gives it a variety of counters against it. Having a zombie in every lane ensures that this plant will not be able to transform unless it is protected with Team-Up plants, or if your opponent has instant-kill cards such as Squash. Because of this, the most secure way to get rid of this plant is by using tricks or environments. However, if Astrocado Pit is played in the late game in a situation where you don't have many cards left in your hand, it can start to become a threat.
You should have instant-kill cards such as Locust Swarm to ensure that even if your opponent finds a way to keep this plant alive and allow it to transform, the Astrocado will just be removed instantly. Although this continues the cycle once more and may exhaust your cards, it allows you more time to deal with it, possibly allowing you to destroy Astrocado Pit itself and stop the cycle or defeat your opponent.
Gallery
Old
In other languages
| Language | Name | Description |
| --- | --- | --- |
| English | Astrocado Pit | |
| Simplified Chinese | 星际鳄梨果核 | lit. "Astro Avocado Pit" |
| Traditional Chinese | 太空鱷梨陷阱 | lit. "Space Avocado Trap" |
Trivia
Its old description was very similar to Doubled Mint's, except the sentences were swapped and the word "just" was removed. In update 1.16.10, it was changed to Astrocado's original description, while Astrocado's description was changed.
See also