Art Challenge Sunflower is one of the 17 hidden mini-games that can only be accessed using Cheat Engine.
This mini-game is similar to Seeing Stars and Art Challenge Wall-nut, where the player must fill all outlined spaces with the respective plants. They must fill outlined spaces with Starfruit, Wall-nut, and Umbrella Leaf to make the shape of a Sunflower. The level lasts until the player fills the space.
Limbo Page
There was a page of mini-games which were canceled before the release of the game, called Limbo Page. The creator did not publish a visible link to this page.
Gain access to Limbo Page
Add three addresses and change all the value to 144.
For the original PC version
For the Game of the Year version
Address name
Type
Original value
Edited value
Address name
Type
Original value
Edited value
42DF5D
Byte
136
144
430C80
Byte
136
144
42DF5E
Byte
89
144
430C81
Byte
88
144
42DF5F
Byte
84
144
430C82
Byte
100
144
Strategies
In this mini-game, the Sunflower art is composed of Wall-nuts, Starfruits, and Umbrella Leaves. Build your defenses first before planting on the outlines. It is recommended to plant a Garlic at lane two in front of the Starfruit outline. It is quite difficult as the Wall-nuts need a long time to recharge, although you can use Imitater Wall-nuts. The plants also cost a lot of sun but not as much as Seeing Stars.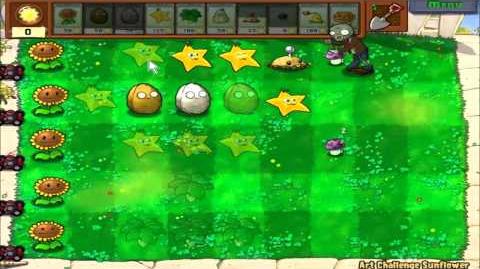 Gallery
Trivia
Its icon is the same as the Column Like You See 'Em icon.
Though the goal of the mini-game is to fill the outlined spaces with places to create the Sunflower's face, it does not resemble it.
Unlike Seeing Stars and Art Challenge Wall-nut, this mini-game does not use the Sunflower for the outline.

This is likely due to the fact Sunflower has many colors, while Starfruit and Wall-nut are mainly one color.
See also
†: That mini-game is not shown in Limbo page.


*: That mini-game is playable without third party software.
Community content is available under
CC-BY-SA
unless otherwise noted.