Roblox: DeepWoken - The Loop
Play Sound
For similar game modes in the Chinese version, Plants vs. Zombies: All Stars, and Plants vs. Zombies 3, see PvP Mode, Arena (PvZ: AS), and Arena (PvZ3) respectively.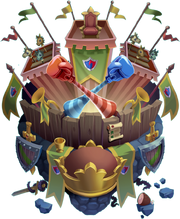 Arena (formerly known as Battlez until 7.5.1) is a player vs. player game mode in Plants vs. Zombies 2 that was introduced in the 6.6.1 update. This mode is unlocked after getting the Map of Space-Time-Ness from Ancient Egypt - Day 1 and obtaining at least six plants.
Gameplay
To start a match, the player has to use a Gauntlet. Gauntlets can be bought with gems. However, every four hours, the player receives a free play. The player can press the 'FREE PLAY' button, which is located to the left of the Play Button, to watch an advertisement and obtain a free gauntlet. Up to four free Gauntlets per day can be obtained by watching ads.
When an opponent is found, the player will usually choose five plants, with the first slot reserved for the plant of the week. Once the plants are chosen, the player is set in the Last Stand format, then after setting-up, the "battle" begins. The player gains points based on the distance the zombies are away from the house, and their starting health. Zombies in the yellow zone are worth their full potential of points, while zombies in the red, blue, and brown zones being worth 60%, 40%, and 20% of their potential respectively. Points can also be scored by removing most forms of armor through any method. Zombies buffed by Cardio Zombie are worth extra points. Destroying Gravestones and Surfboards also gives a small amount points.
This mode is time-based, and the zombies have significantly more health, with higher leagues having even higher health. Zombies can often survive multiple instant-kills. Zombies will also eat significantly faster, causing most plants to be eaten instantly. The faster the player kills the zombies, the more health they will have. Having a non-defensive plant getting eaten will result in a penalty, causing the zombie health to be reduced and therefore significantly reducing the score they will give. Having a sun-producing plant getting eaten or manually launching a Lawnmower will result in a big penalty, and if a zombie activates a mower, this will result in a huge penalty. Winning a match of Arena is brought about by getting a higher score than your opponent, and grants the player five Crowns, whereas losing a match only yields one crown. Surrendering will count as a loss, but will grant no crowns.
Most of the player's upgrades (except Instant Recharge, Wall-nut First Aid and Mower Launch) are removed in this mode. The player also cannot spend 1000 coins to buy Plant Food or use Power Ups in this mode.
As the player wins matches, they will collect rewards from a reward streak, found under the play button. The rewards get better as the player wins more consecutive matches. If the player breaks a streak, they can pay 20 gems to retain it.
Current possible rewards for the reward streak (in order):
NOTE: Rewards may be doubled in some tournaments.
Each week, there will be a different type of tournament that the player will have to compete in. Each type of tournament has its own way of changing the gameplay (the change can be quite minor, though). For example, a tournament can shorten the time it takes for a match to finish. It could also be quite major (for example, from 17th July - 19th July 2018 Grapeshot's Double Shot Tournament lasted 2 days and the rewards were drastically decreased).
Also, this mode also has several different leagues; the player gets promoted if they place top 3 in their league by having a number of crowns higher than all but two or less other players in their league. If they are placed in one of the last three spots, they will be demoted to the league before that one (this is not the case in the lower leagues, where special methods are required to be demoted). Several gems, mints and coins are rewarded in promotions.
It has been noted that this mode does appear to be lacking a "real" matchmaking feature that pairs you with another player fairly. There have been reports of people that had low-leveled plants to still be paired with a person with max-leveled plants or still high-leveled plants. Players can also be paired against bots that solely calculate their score based on the players.
Zombie point values
Zombies
| Base Points Given | Zombies |
| --- | --- |
| 100 | |
| 200 | (without chair) |
| 250 | (without grate) |
| 300 | |
| 400 | |
| 450 | |
| 500 | (with grate) (on chair) |
| 550 | (if hat is stolen by Magnet-shroom) |
| 650 | |
| 700 | |
| 750 | |
| 800 | |
| 850 | |
| 900 | |
| 1300 | |
| 1900 | |
| 10000 (increases by 10000 per phase) | |
| 30000 | |
| 50000 | (Phase 1) |
| 75000 | (Phase 2), (Phase 1) |
| 100000 | (Phase 3), (Phase 2), , (Phase 1) |
| 125000 | (Phase 3), (Phase 2) |
| 150000 | (Phase 3) |
Obstacles
| Base Points Given | Obstacles |
| --- | --- |
| 200 | |
Note: Points listed appear as they are, with no multipliers, modifiers or buffs. Not 100% accurate.
Maximum promotion rewards
The table below shows the rewards for long (7 day) tournaments. For shorter tournaments, the rewards are reduced proportionally. Typically 40% for 3 days tournament and 60% for 4 day tournament. Interpret the below table accordingly.
| League | Mint Rewards | Gem Rewards | Coin Rewards |
| --- | --- | --- | --- |
| Jade | 120 | 270 | 9000 |
| Gold | 100 | 210 | 6000 |
| Silver | 80 | 165 | 5400 |
| Bronze | 60 | 132 | 4800 |
| Iron | 50 | 108 | 4200 |
| Brick | 40 | 90 | 3600 |
| Wood | 30 | 75 | 3000 |
| Soil | 20 | 60 | 2400 |
Tournament rank and rewards
The tables below show the amount of gems and mints based on your rank in a tournament. For shorter tournaments, interpret the tables below in the similar manner as maximum rewards table above. (source)
Gems
| Place | % | Jade | Gold | Silver | Bronze | Iron | Brick | Wood | Soil |
| --- | --- | --- | --- | --- | --- | --- | --- | --- | --- |
| 1 | 100% | 270 | 210 | 165 | 132 | 108 | 90 | 75 | 60 |
| 2 | 80% | 216 | 168 | 132 | 106 | 86 | 72 | 60 | 48 |
| 3 | 60% | 162 | 126 | 99 | 79 | 65 | 54 | 45 | 36 |
| 4 | 59% | 158 | 123 | 97 | 77 | 63 | 53 | 44 | 35 |
| 5 | 47% | 126 | 98 | 77 | 62 | 50 | 42 | 35 | 28 |
| 6 | 29% | 78 | 61 | 48 | 38 | 31 | 26 | 22 | 17 |
| 7 | 29% | 78 | 61 | 48 | 38 | 31 | 26 | 22 | 17 |
| 8 | 27% | 72 | 56 | 44 | 35 | 29 | 24 | 20 | 16 |
| 9 | 27% | 72 | 56 | 44 | 35 | 29 | 24 | 20 | 16 |
| 10 | 13% | 36 | 28 | 22 | 18 | 14 | 12 | 10 | 8 |

Mints
| Place | % | Jade | Gold | Silver | Bronze | Iron | Brick | Wood | Soil |
| --- | --- | --- | --- | --- | --- | --- | --- | --- | --- |
| 1 | 100% | 120 | 100 | 80 | 60 | 50 | 40 | 30 | 20 |
| 2 | 80% | 96 | 80 | 64 | 48 | 40 | 32 | 24 | 16 |
| 3 | 60% | 72 | 60 | 48 | 36 | 30 | 24 | 18 | 12 |
| 4 | 40% | 48 | 40 | 32 | 24 | 20 | 16 | 12 | 8 |
| 5 | 20% | 24 | 20 | 16 | 12 | 10 | 8 | 6 | 4 |
| 6 | 10% | 12 | 10 | 8 | 6 | 5 | 4 | 3 | 2 |
| 7 | 10% | 12 | 10 | 8 | 6 | 5 | 4 | 3 | 2 |
| 8 | 10% | 12 | 10 | 8 | 6 | 5 | 4 | 3 | 2 |
| 9 | 10% | 12 | 10 | 8 | 6 | 5 | 4 | 3 | 2 |
Seasons list
Seasons were firstly introduced in the 7.3.1 update. In Seasons, the players can get rewards after they collect crowns from all of the tournaments, such as coins, gems, piñatas, or seed packets of the featured plants. Each season has one featured plant and also new tournament called Boosterama where all plants are boosted. In the end of each Season, there is a Boss Fight Tournament. The list of Seasons is below here:
| Season number | Season name | Featured plant | Season duration | Number of rewards | Tournament that occured within this season |
| --- | --- | --- | --- | --- | --- |
| 1 | Zoybean Pod's Birthdayz Season | | April 30, 2019 - May 28, 2019 | 8 | •Zoybean Pod's Tournament •Apple Mortar's Tournament •Apple Mortar's Boosterama •Wasabi Whip's Tournament •Zoybean Pod & Friends VS Zomboss Tournament |
| 2 | Summer Daze Season | | May 28, 2019 - June 24, 2019 | 10 | •Dazey Chain's Tournament •Explode-o-nut's Tournament •Explode-o-nut's Boosterama •Bombegranate's Tournament •Bombegranate's Boosterama •Dazey Chain & Friends VS Zomboss Tournament |
| 3 | Enlighten-mint's Solar Season | | June 24, 2019 - July 22, 2019 | 10 | •Enlighten-mint's Tournament •Toadstool's Tournament •Toadstool's Boosterama •Solar Tomato's Tournament •Solar Tomato's Boosterama •Enlighten-mint & Friends VS Zomboss Tournament |
| 4 | Electrici-tea's Shocking Season | | July 23, 2019 - August 19, 2019 | 10 | •Electrici-tea's Tournament •Sap-fling's Tournament •Sap-fling's Boosterama •Goo Peashooter's Tournament •Goo Peashooter's Boosterama •Electrici-tea & Friends VS Zomboss Tournament |
| 5 | Blastberry Vine's Big Boom Season | | August 19, 2019 - September 16, 2019 | 10 | •Blastberry Vine's Tournament •Caulipower's Tournament •Caulipower's Boosterama •Sling Pea's Tournament •Sling Pea's Boosterama •Blastberry Vine & Friends VS Zomboss Tournament |
| 6 | Pokra's Party Season | | September 16, 2019 - October 14, 2019 | 10 | •Pokra's Tournament •Cactus' Tournament •Cactus' Boosterama •Gold Bloom's Tournament •Gold Bloom's Boosterama •Pokra & Friends VS Zomboss Tournament |
| 7 | Pyre Vine's Searing Season | | October 14, 2019 - November 11, 2019 | 10 | •Pyre Vine's Tournament •Jack O' Lantern's Tournament •Jack O' Lantern's Boosterama •Ghost Pepper's Tournament •Ghost Pepper's Boosterama •Pyre Vine & Friends VS Zomboss Tournament |
| 8 | Pumpkin's Safety Season | | November 11, 2019 - December 9, 2019 | 10 | •Pumpkin's Tournament •Witch Hazel's Tournament •Witch Hazel's Boosterama •Power Lily's Tournament •Power Lily's Boosterama •Pumpkin & Friends VS Zomboss Tournament |
| 9 | Ice Bloom's Year-end Season | | December 9, 2019 - January 6, 2020 | 10 | •Ice Bloom's Tournament •Cold Snapdragon's Tournament •Cold Snapdragon's Boosterama •Missile Toe's Tournament •Missile Toe's Boosterama •Ice Bloom & Friends VS Zomboss Tournament |
| 10 | Ultomato's Ultimate Season | | January 6, 2020 - February 3, 2020 | 10 | •Ultomato's Tournament •Starfruit's Tournament •Starfruit's Boosterama •Torchwood's Tournament •Torchwood's Boosterama •Ultomato & Friends VS Zomboss Tournament |
| 11 | Blooming Heart's Sociable Season | | February 3, 2020 - March 2, 2020 | 10 | •Blooming Heart's Tournament •Goo Peashooter's Tournament •Goo Peashooter's Boosterama •Bombegranate's Tournament •Bombegranate's Boosterama •Blooming Heart & Friends VS Zomboss Tournament |
| 12 | Dartichoke's Selective Season | | March 2, 2020 - March 30, 2020 | 10 | •Dartichoke's Tournament •Snap Pea's Tournament •Snap Pea's Boosterama •Wasabi Whip's Tournament •Wasabi Whip's Boosterama •Dartichoke & Friends VS Zomboss Tournament |
| 13 | Shine Vine's Shimmer Season | | March 30, 2020 - April 27, 2020 | 10 | •Shine Vine's Tournament •Solar Tomato's Tournament •Solar Tomato's Boosterama •Toadstool's Tournament •Toadstool's Boosterama •Shine Vine & Friends VS Zomboss Tournament |
| 14 | Gumnut's Sticky Season | | April 27, 2020 - May 25, 2020 | 10 | •Gumnut's Tournament •Aloe's Tournament •Aloe's Boosterama •Explode-o-Nut Tournament •Explode-o-Nut Boosterema •Gumnut & Friends VS Zomboss Tournament |
| 15 | Tumbleweed's Rumble Season | | May 25, 2020 - June 22, 2020 | 10 | •Tumbleweed's Tournament •Pokra's Tournament •Pokra's Boosterama •Chomper's Tournament •Chomper's Boosterama •Tumbleweed & Friends VS Zomboss Tournament |
| 16 | Champion Blowout Season | | June 22, 2020 - July 20, 2020 | 10 | •Zoybean Pod's Tournament •Zoybean Pod's Boosterama •Pyre Vine's Tournament •Pyre Vine's Boosterama •Blastberry Vine's Tournament •Blastberry Vine's Boosterama •Ultomato & Friends VS Zomboss |
| 17 | Olive Pit's Oily Season | | July 20, 2020 - August 17, 2020 | 10 | •Olive Pit's Tournament •Sap-fling's Tournament •Sap-fling's Boosterama •Dazey Chain's Tournament •Dazey Chain's Boosterama •Olive Pit & Friends VS Zomboss |
| 18 | Puffball's Purple Season | | August 17, 2020 - September 14, 2020 | 10 | •Puffball's Tournament •Goo Peashooter's Tournament •Goo Peashooter's Boosterama •Blooming Heart's Tournament •Blooming Heart's Boosterama •Puffball & Friends VS Zomboss |
| 19 | Explode-o-Vine's Incendiary Season | | September 14, 2020 - October 12, 2020 | 10 | •Explode-o-Vine's Tournament •Escape Root's Tournament •Escape Root's Boosterama •Grapeshot Tournament •Grapeshot Boosterama •Explode-o-Vine & Friends VS Zomboss |
| 20 | Murkadamia Nut's Mighty Season | | October 12, 2020 - November 9, 2020 | 10 | •Murkadamia Nut's Tournament •Shadow Peashooter's Tournament •Shadow Peashooter's Boosterama •Electric Blueberry's Tournament •Electric Blueberry's Boosterama •Murkadamia Nut & Friends VS Zomboss |
| 21 | Turkey-pult's Thankful Season | | November 9, 2020 - December 8, 2020 | 10 | •Turkey-pult's Tournament •Apple Mortar's Tournament •Apple Mortar's Boosterama •Sling Pea's Tournament •Sling Pea's Boosterama •Turkey-pult & Friends VS Zomboss |
| 22 | Boingsetta's Bouncy Season | | December 8, 2020 - January 4, 2021 | 10 | •Boingsetta's Tournament •Snow Pea's Tournament •Snow Pea's Boosterama •Ice Bloom's Tournament •Ice Bloom's Boosterama •Boingsetta & Friends VS Zomboss |
| 23 | Stickybomb Rice's Sweet Season | | January 4, 2021 - February 1, 2021 | 10 | •Stickybomb Rice's Tournament •Starfruit's Tournament •Starfruit's Boosterama •Tumbleweed's Tournament •Tumbleweed's Boosterama •Stickybomb Rice & Friends VS Zomboss |
| 24 | Hocus Crocus' Helpful Season | | February 1, 2021 - March 1, 2021 | 10 | •Hocus Crocus' Tournament •Caulipower's Tournament •Caulipower's Boosterama •Zoybean Pod's Tournament •Zoybean Pod's Boosterama •Hocus Crocus & Friends VS Zomboss |
| 25 | Gloom Vine's Glorious Season | | March 1, 2021 - March 29, 2021 | 10 | •Gloom Vine's Tournament •Shadow Peashooter's Tournament •Shadow Peashooter's Boosterama •Murkadamia Nut's Tournament •Murkadamia Nut's Boosterama •Gloom Vine & Friends VS Zomboss |
| 26 | Draftodil's Defensive Season | | March 29, 2021 - April 26, 2021 | 10 | •Draftodil's Tournament •Olive Pit's Tournament •Olive Pit's Boosterama •Dazey Chain's Tournament •Dazey Chain's Boosterama •Draftodil & Friends VS Zomboss |
| 27 | Boom Balloon Flower's Bangin' Season | | April 26, 2021 - May 24, 2021 | 10 | •Boom Balloon Flower's Tournament •Bombegranate's Tournament •Bombegranate's Boosterama •Explode-o-Vine's Tournament •Explode-o-Vine's Boosterama •Boom Balloon Flower & Friends VS Zomboss |
| 28 | Pea Vine's Persuasive Season | | May 24, 2021 - June 21, 2021 | 10 | •Pea Vine's Tournament •Torchwood's Tournament •Torchwood's Boosterama •Dandelion's Tournament •Dandelion's Boosterama •Pea Vine & Friends VS Zomboss |
| 29 | Inferno's Ineffable Season | | June 21, 2021 - July 19, 2021 | 10 | •Inferno's Tournament •Hot Date's Tournament •Hot Date's Boosterama •Pyre Vine's Tournament •Pyre Vine's Boosterama •Inferno & Friends VS Zomboss |
| 30 | Champion Blowout Season | | July 19, 2021 - August 16, 2021 | 10 | •Shine Vine's Tournament •Shine Vine's Boosterama Tournament •Stickybomb Rice's Tournament •Stickybomb Rice's Boosterama •Puffball's Tournament •Puffball's Boosterama •Dartichoke & Friends VS Zomboss |
| 31 | Solar Sage's Sagacious Season | | August 16, 2021 - September 13, 2021 | 10 | •Solar Sage's Tournament •Solar Tomato's Tournament •Solar Tomato's Boosterama •Toadstool's Tournament •Toadstool's Boosterama •Solar Sage & Friends VS Zomboss |
| 32 | Power Vine's Potent Season | | September 13, 2021 - October 11, 2021 | 10 | •Power Vine's Tournament •Electric Peashooter's Tournament •Electric Peashooter's Boosterama •Electrici-tea's Tournament •Electrici-tea's Boosterama •Power Vine & Friends VS Zomboss |
| 33 | Noctarine's Noxious Season | | October 11, 2021 - November 8, 2021 | 10 | •Noctarine's Tournament •Murkadamia Nut's Tournament •Murkadamia Nut's Boosterama •Gloom Vine's Tournament •Gloom Vine's Boosterama •Noctarine & Friends VS Zomboss |
| 34 | Heath Seeker's Hairy Season | | November 8, 2021 - December 6, 2021 | 10 | •Heath Seeker's Tournament •Cactus's Tournament •Cactus's Boosterama •Pokra's Tournament •Pokra's Boosterama •Heath Seeker & Friends VS Zomboss |
| 35 | Iceweed's Iconic Season | | December 6, 2021 - January 3, 2022 | 10 | •Iceweed's Tournament •Missile Toe's Tournament •Missile Toe's Boosterama •Snow Pea's Tournament •Snow Pea's Boosterama •Iceweed & Friends VS Zomboss |
| 36 | Teleportato Mine's Transient Season | | January 3, 2022 - January 31, 2022 | 10 | •Teleportato Mine's Tournament •Explode-O-Nut's Tournament •Explode-O-Nut's Boosterama •Grapeshot's Tournament •Grapeshot's Boosterama •Teleportato Mine & Friends VS Zomboss |
| 37 | Tiger Grass's Tense Season | | January 31, 2022 - February 28, 2022 | 10 | •Tiger Grass's Tournament •Wasabi Whip's Tournament •Wasabi Whip's Boosterama •Snap Pea's Tournament •Snap Pea's Boosterama •Tiger Grass & Friends VS Zomboss |
Featured Power Mint
| Mint number | Mint | Schedule | Tournaments that occured within this schedule |
| --- | --- | --- | --- |
| 1 | | May 1, 2018 - May 29, 2018 and April 30, 2019 - May 30, 2019 | •Electric Peashooter's Warped Tournament •Lightning Reed's Brainstorm Tournament •Electric Currant's Garden Party Tournament •Electric Blueberry's Brainstorm •Zoybean Pod's Birthdayz Tournament •Apple Mortar's Tournament •Apple Mortar's Boosterama •Wasabi Whip's Escalating Tournament •Zoybean Pod & Friends VS Zomboss Tournament |
| 2 | | May 30, 2018 - June 26, 2018 and May 28, 2019 - June 24, 2019 and November 11, 2019 - December 9, 2019 | •Cold Snapdragon's Escalating Tournament •Solar Tomato's Warped Tournament •Aloe's Escalating Tournament •Holly Barrier's Escalating Tournament •Dazey Chain Tournament •Explode-o-Nut's Tournament •Explode-o-Nut's Boosterama •Bombegranate's Tournament •Bombegranate's Boosterama •Dazey Chain & Friends VS Zomboss Tournament •Pumpkin's Tournament •Witch Hazel's Tournament •Witch Hazel's Boosterama •Power Lily's Tournament •Power Lily's Boosterama •Pumpkin & Friends VS Zomboss Tournament |
| 3 | | June 26, 2018 - July 25, 2018 and June 25, 2019 - July 22, 2019 and April 26, 2021 - May 26, 2021 | •Strawburst's All-Out Tournament •Bombegranate's Garden Party Tournament •Explode-O-Nut's All-Out Tournament •Grapeshot's Double Shot Tournament •Enlighten-mint's Tournament •Toadstool's Tournament •Toadstool's Boosterama •Solar Tomato's Tournament •Solar Tomato's Boosterama •Enlighten-mint & Friends VS Zomboss Tournament •Escape Root Tournament •Escape Root Boosterama •Boom Balloon Flower's Tournament |
| 4 | | July 24, 2018 - August 22, 2018 and August 19, 2019 - September 16, 2019 and November 9, 2020 - December 8, 2020 | •Arma-mint's Garden Party Tournament •Escape Root's Blitz Tournament •Gold Bloom's Garden Party Tournament •Apple Mortar's Escalating Tournament •Blastberry Vine's Tournament •Caulipower's Tournament •Caulipower's Boosterama •Sling Pea's Tournament •Sling Pea's Boosterama •Blastberry Vine & Friends VS Zomboss Tournament |
| 5 | | August 22, 2018 - September 19, 2018 and July 23, 2019 - August 19, 2019 and March 29, 2021 - April 28, 2021 | •Toadstool's Warped Tournament •Snow Pea's All-Out Tournament •Contain-mint's Tournament •Shadow Peashooter's Tournament •Electrici-tea's Tournament •Sap-fling's Tournament •Sap-fling's Boosterama •Goo Peashooter's Tournament •Goo Peashooter's Boosterama •Electrici-tea & Friends VS Zomboss Tournament |
| 6 | | September 20, 2018 - October 18, 2018, September 16, 2019 - October 14, 2019, and March 2, 2019 - March 30, 2019 | •Parsnip's Tournament •Homing Thistle's Tournament •Starfruit's Tournament •Cactus' Tournament •Pokra's Tournament •Cactus' Tournament •Cactus' Boosterama •Gold Bloom's Tournament •Gold Bloom's Boosterama •Pokra & Friends VS Zomboss Tournament •Dartichoke's Tournament •Snap Pea's Tournament •Snap Pea's Boosterama •Wasabi Whip's Tournament •Wasabi Whip's Boosterama •Dartichoke & Friends VS Zomboss Tournament |
| 7 | | October 16, 2018 - November 14, 2018 and October 14, 2019 - November 11, 2019 | •Ghost Pepper's Tournament •Jack O' Lantern's Tournament •Hot Date's Tournament •Fire Peashooter's Tournament •Pyre Vine's Tournament •Jack O' Lantern's Tournament •Jack O' Lantern's Boosterama •Ghost Pepper's Tournament •Ghost Pepper's Boosterama •Pyre Vine & Friends VS Zomboss Tournament |
| 8 | | November 13, 2018 - December 11, 2018, November 18, 2019 - December 9, 2019 and February 1, 2021 - March 1, 2021 | •Sling Pea's Tournament •Power Lily's Tournament •Witch Hazel's Tournament •Goo Peashooter's Tournament •Hocus Crocus' Tournament |
| 9 | | December 11, 2018 - January 8, 2019, December 9, 2019 - January 6, 2020 and December 8, 2020 - January 4, 2021 | •Missile Toe's Tournament •Snow Pea's Tournament •Cold Snapdragon's Tournament •Electric Peashooter's Tournament •Ice Bloom's Tournament •Cold Snapdragon's Tournament •Cold Snapdragon's Boosterama •Missile Toe's Tournament •Missile Toe's Boosterama •Ice Bloom & Friends VS Zomboss Tournament |
| 10 | | January 8, 2019 - February 5, 2019, January 6, 2020 - February 3, 2020, January 4, 2021 - February 3, 2021 and May 24, 2021 - June 21, 2021 | •Gold Bloom's Tournament •Starfruit's Tournament •Electric Blueberry's Tournament •Snow Pea's All-Out Tournament •Ultomato's Tournament •Starfruit's Tournament •Starfruit's Boosterama •Torchwood's Tournament •Torchwood's Boosterama •Ultomato & Friends VS Zomboss Tournament |
| 11 | | February 5, 2019 - March 5, 2019 | •Hot Date's Tournament •Blooming Heart's Tournament •Goo Peashooter's Tournament •Ail-mint's Tournament •Blooming Heart's Tournament •Goo Peashooter's Tournament •Goo Peashooter's Boosterama •Bombegranate's Tournament •Bombegranate's Boosterama •Blooming Heart & Friends VS Zomboss Tournament |
| 12 | | March 5, 2019 - April 3, 2019 | •Snap Pea's Tournament •Enforce-mint's Tournament •Torchwood's Tournament •Strawburst's Tournament |
| 13 | | April 3, 2019 - April 30, 2019, March 1, 2021 - March 31, 2021 | •Grapeshot's Tournament •Conceal-mint's Tournament •Dandelion's Tournament •Escape Root's Blitz Tournament •Gloom Vine's Tournament |
List of tournaments
Tournament number
Tournament
Featured plant
Restricted plants
Duration
Zombies (excluding frozen zombies and ambush zombies)
Starting sun
Special mechanics
Surprise attacks
Buffz & Bruisez
Schedule
1
Gold Bloom's Garden Party Tournament

(Only the second tournament)
3:00
750
N/A
N/A
N/A
March 14, 2018-March 20, 2018 & August 7, 2018-August 14, 2018
2
Caulipower's Escalating Tournament
N/A
3:00
750
N/A
Parachute Rain!
N/A
March 21, 2018-March 27, 2018
3
Dandelion's Brainstorm Tournament
N/A
3:00
350
Speed potions
N/A
N/A
March 28, 2018-April 3, 2018
4
Power Lily's Garden Party Tournament
N/A
3:00
750
Minecarts
N/A
N/A
April 4, 2018-April 10, 2018
5
Power Lily's Tournament
3:00
750
Minecarts
Hamster Brawl!

November 20, 2018-November 27, 2018
6
Wasabi Whip's Blitz Tournament
N/A
1:30
1500
Bot Swarm!
N/A
April 11, 2018-April 17, 2018
7
Explode-O-Nut's All-Out Tournament

(Restricted in the second tournament)

3:00
5000
Slider tile, frozen (2)
Raiding Party!
N/A
April 18, 2018-April 24, 2018 & July 10, 2018-July 17-2018
8
Bombegranate's Garden Party Tournament
N/A
3:00
750
Dark Ages tombstones, Ancient Egypt tombstones
Sandstorm!
N/A
April 25, 2018-May 1, 2018 & July 3, 2018 - July 10, 2018
9
Electric Peashooter's Warped Tournament
3:00
-+
3000
Dark Ages tombstones, Ancient Egypt tombstones, occassional mass-sun drop
N/A
N/A
May 2, 2018-May 8 2018
10
Lightning Reed's Brainstorm Tournament
N/A
3:00
650 (more if pre-placed are shoveled up)
3 pre-placed
Sandstorm!
N/A
May 9, 2018-May 15. 2018
11
Electric Currant's Garden Party Tournament
N/A
3:00
750
Slider tile, minecarts
N/A
N/A
May 16, 2018-May 22, 2018
12
Electric Blueberry's Brainstorm Tournament
N/A
3:00
750
Dave's mold colonies
N/A
N/A
May 23, 2018-May 29, 2018
13
Cold Snapdragon's Escalating Tournament
3:00
750
N/A
N/A
N/A
May 30, 2018-June 5, 2018 and December 25 2018,- January 1, 2019
14
Solar Tomato's Warped Tournament
3:00
750
Power Tiles, Sun Bombs and Portals
N/A
N/A
June 5, 2018-June 12, 2018
15
Aloe's Escalating Tournament
3:00
550 (more if pre-placed are shoveled up)
Dark Ages tombstones, Ancient Egypt tombstones, 5 pre-placed , , Portals
Necromancy!
N/A
June 12, 2018-June 19, 2018
16
Holly Barrier's Escalating Tournament
N/A
3:00
750
N/A
N/A
June 19, 2018-June 26, 2018
17
Strawburst's All-Out Tournament
3:00
7500
N/A
Snowstorm!

Sandstorm!

N/A
June 26, 2018-July 3, 2018
18
Grapeshot's Double Shot Tournament
N/A
3:00
750
N/A
Parachute Rain!
N/A
July 17, 2018-July 19, 2018
19
3:00
5000
N/A
Parachute Rain!
N/A
July 19, 2018-July 24, 2018
20
Arma-mint's Garden Party Tournament
3:00
250
Dave's mold colonies, Slider tile,
N/A
N/A
July 24, 2018-July 31, 2018
21
Escape Root's Blitz Tournament
1:30 (time goes by much faster)
350
8 pre-placed (7 frozen)
N/A
N/A
July 31, 2018-August 7, 2018 & April 23, 2019-April 30, 2019
22
Apple Mortar's Escalating Tournament
(not all players)
3:00
500
Speed potions, Freezing winds
Snowstorm!
N/A
August 15, 2018-August 21, 2018
23
Toadstool's Warped Tournament
3:00
+-
1250
Sun tombstones
Necromancy!
N/A
August 22, 2018-August 28, 2018
24
Snow Pea's All-Out Tournament
3:00
3000
Plant Food tombstones, Sun tombstones, minecarts
N/A
N/A
August 29, 2018-September 4, 2018 & January 29, 2019-February 5, 2019
25
Contain-mint's Tournament
1:30
1750
Speed potions
N/A

September 4, 2018-September 11, 2018
26
Shadow Peashooter's Tournament
3:00
400
Speed potions
N/A

September 11, 2018-September 18, 2018
27
Parsnip's Tournament
3:00
0
Sun tombstones
N/A

(

originally)
September 18, 2018-September 25, 2018
28
Homing Thistle's Tournament
3:00
500
Slider tiles, Power Tiles
Hamster Brawl!

September 25, 2018-October 2, 2018
29
Starfruit's Tournament
3:00
375
Power Tiles,
Hamster Brawl!

October 2, 2018-October 9, 2018
30
Cactus' Tournament
1:30
2250 (more if pre-placed are shoveled up)
Dark Ages tombstones Sun tombstones 3 pre-placed
Necromancy!

October 9, 2018-October 16, 2018
31
Ghost Pepper's Tournament
N/A
3:00
750
N/A

October 16, 2018-October 23, 2018
32
Jack O' Lantern's Tournament
3:00
750
5 pre-placed (frozen), Dark Ages tombstones, Plant Food tombstones, Freezing winds, Dave's mold colonies
N/A

October 23, 2018-October 30, 2018
33
Hot Date's Tournament
3:00
1000
Slider tiles
N/A

October 30, 2018-November 6, 2018
34
Fire Peashooter's Tournament
3:00
3500
5 frozen ,
:
:
Hamster Brawl!

November 6, 2018-November 13, 2018
35
Sling Pea's Tournament
1:30
1500
Dave's mold colonies
N/A

November 13, 2018-November 20, 2018
36
Witch Hazel's Tournament
3:00
500
N/A
Sandstorm!

Hamster Brawl!

November 27, 2018-December 4, 2018
37
Goo Peashooter's Tournament
3:00
750
N/A
Parachute Rain!

December 4, 2018-December 11, 2018
38
Missile Toe's Tournament
3:00
0
4 pre-placed

5 pre-placed (frozen)

2 pre-placed (frozen)

3 pre-placed (frozen)

3 pre-placed (frozen)

Raiding Party!

December 11, 2018-December 18, 2018
39
Snow Pea's Tournament
All World plants except plants returned from Player's House, Ancient Egypt, Pirate Seas, Wild West, and Power Mints, and All Premium Plants except
3:00
750
N/A
Hamster Brawl!

December 18, 2018-December 25, 2018
Tournament number
Tournament
Featured plant
Restricted plants
Duration
Zombies (excluding frozen zombies and ambush zombies)
Starting sun
Special mechanics
Surprise attacks
Buffz & Bruisez
Schedule
40
Gold Bloom's Tournament
N/A
3:00
500
Power Tiles
Bot Swarm!
N/A
January 8, 2019-January 15, 2019
41
Electric Blueberry's Tournament
N/A
3:00
750
Dave's mold colonies
N/A

January 22, 2019-January 29, 2019
42
Hot Date's Tournament
N/A
3:00
1000
Slider tile
N/A

February 5 2019-February 12, 2019
43
Blooming Heart's Tournament
3:00
1200
Dark Ages tombstones
N/A

February 12, 2019-February 19, 2019
44
Goo Peashooter's Tournament
N/A
3:00
0
N/A
Hamster Brawl!

February 19, 2019-February 26, 2019
45
Ail-mint's Tournament
N/A
3:00
(shrunken versions)
1750
1 pre-placed on Minecart and rail, Dark Ages tombstones, Plant Food tombstones
N/A

February 26, 2019-March 5, 2019
46
Snap Pea's Tournament
1:30
2000
Dark Ages tombstones, Sun tombstones
Necromancy!

March 5, 2019-March 12, 2019
47
Enforce-mint's Tournament
N/A
1:00
1500
N/A
N/A

March 12, 2019-March 19, 2019
48
Torchwood's Tournament
All World plants except plants returned from Plants vs. Zombies and Power Mints
3:00
1750
Power Tiles (green, covered the whole of column 1)
N/A

March 19, 2019-March 26, 2019
49
Strawburst's Tournament
N/A
3:00
1600
Plant Food tombstones, Dave's mold colonies
Necromancy!

March 26, 2019-April 2, 2019
50
Grapeshot's Tournament
All Sun-producing plants
2:00
875
:
:
:
:
N/A

April 2, 2019-April 9, 2019
51
Conceal-mint's Tournament
N/A
2:00
1275
N/A
Bot Swarm!

April 9, 2019-April 16, 2019
52
Dandelion's Tournament
N/A
3:00
400
Speed potions
N/A

April 16, 2019-April 23, 2019
53
Escape Root's Blitz Tournament
1:30 (time goes by much faster)
350
8 pre-placed (7 frozen)
N/A
N/A
April 23, 2019-April 30, 2019
54
Zoybean Pod's Birthdayz Tournament
3:00
750
2 pre-placed
N/A

April 30, 2019-May 6, 2019
55
Apple Mortar's Escalating Tournament
(not all player)
2:40
750
Speed potions, Freezing winds
Snowstorm!
N/A
May 7, 2019-May 10, 2019
56
Apple Mortar's Boosterama Tournament
(not all player)
2:40
750
Speed potions, Freezing winds, All plant boosted
Snowstorm!
N/A
May 10, 2019-May 14, 2019
57
Wasabi Whip's Escalating Tournament
3:00
2125
Dave's mold colonies, Freezing winds, 5 pre-placed (frozen)
Hamster Brawl!

May 14, 2019-May 21, 2019
58
Zoybean Pod & Friends VS Zomboss Tournament
N/A
3:00
1250
Dave's mold colonies
Sandstorm!

May 21, 2019-May 28, 2019
59
Dazey Chain's Tournament
N/A
3:00
750
Dark Ages tombstones, 2 pre-placed : : : : : :
Necromancy!

May 28, 2019 - June 3, 2019
60
Explode-O-Nut's All-Out Tournament
3:00
5000
Slider tile, frozen (2)
Raiding Party!

June 3, 2019 - June 7, 2019
61
Explode-O-Nut's Boosterama Tournament
3:00
5000
Slider tile, frozen (2), All plant boosted
Raiding Party!

June 7, 2019 - June 10, 2019
62
Bombegranate's Garden Party Tournament
N/A
3:00
750
Dark Ages tombstones, Ancient Egypt tombstones
Sandstorm!
N/A
June 10,2019 - June 13, 2019
63
Bombegranate's Boosterama Tournament
N/A
3:00
750
Dark Ages tombstones, Ancient Egypt tombstones, All plant boosted
Sandstorm!
N/A
June 13, 2019 - June 17, 2019
64
Dazey Chain & Friends VS Zomboss Tournament
|
3:00
1350
Dave's mold colonies,
N/A
N/A

June 17, 2019- June 24, 2019
65
Enlighten-mint's Tournament
N/A
2:30
125
Dave's mold colonies, minecarts, Slider tiles
N/A

June 24, 2019 - July 1, 2019
66
Toadstool's Tournament
3:00
1250
Sun tombstones
Necromancy!

July 1, 2019 - July 4, 2019
67
Toadstool's Boosterama Tournament
3:00
1250
Sun tombstones, All plant boosted
Necromancy!

July 4, 2019 - July 8, 2019
68
Solar Tomato's Tournament
3:00
Summoned:
1000
Power Tiles, Portals : : : : : :
N/A

July 8, 2019 - July 11, 2019
69
Solar Tomato's Boosterama Tournament
3:00
Summoned:
1000
Power Tiles, all plants boosted, Portals : : : : : :
N/A

July 11, 2019 - July 15, 2019
70
Enlighten-mint & Friends VS Zomboss Tournament
3:00
1350
Dave's mold colonies, Fire trap tiles
Parachute Rain!

July 15, 2019 - July 22, 2019
71
Electrici-tea's Tournament
N/A
3:00
1225
Dave's mold colonies
Sandstorm!

July 22, 2019 - July 29, 2019
72
Sap-fling's Tournament
N/A
3:00
1200
2 pre-placed ,

Bot Swarm!

July 29, 2019 - August 1, 2019
73
Sap-fling's Boosterama Tournament
N/A
3:00
1200
2 pre-placed , , all plants boosted
Bot Swarm!

August 1, 2019 - August 5, 2019
74
Goo Peashooter's Tournament
N/A
3:00
0
Occasional mass sun-drop
Hamster Brawl!

August 5, 2019 - August 8, 2019
75
Goo Peashooter's Boosterama Tournament
N/A
3:00
0
Occasional mass sun-drop, all plants boosted
Hamster Brawl!

August 8, 2019 - August 12, 2019
76
Electrici-tea & Friends VS Zomboss Tournament
3:00