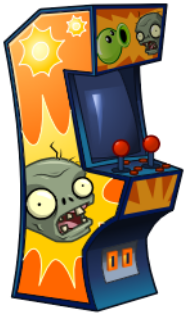 Arcade machines are environment modifiers and lawn obstacles found in Neon Mixtape Tour in Plants vs. Zombies 2. They are pushed across the lawn by Arcade Zombies. Like frozen blocks, arcade machines can crush all plants when pushed, including instant-use and boosted plants. When the 8-bit jam plays, they spawn different variants of 8-Bit Zombies.
Overview
The arcade machine absorbs 1200 damage per shot. Its appearance changes at 280, 560, 840 and 1120 damage per shot, before being destroyed at 1200 damage per shot.
Audio
| Sound | Description |
| --- | --- |
| | Arcade machine being moved |
| | Arcade machine being damaged |
| | Arcade machine destroyed |
| | Moving sound effect |
Gallery
Trivia
Sometimes, it may spawn a variant of an 8-Bit Zombie right after it is destroyed.

It can also occasionally still be pushed and crush plants after being destroyed, and it can still block projectiles until it disappears.

Despite being a machine, it cannot be disabled by E.M.Peach.
There is a glitch that allows players to plant on them. This happens when Punk Zombie kicks the player's plants on the same tile with the arcade machine.
In Modern Day, they do not spawn 8-Bit Zombie or its variants, despite other Neon Mixtape Tour zombies using their jam-related abilities.
There is a glitch that arcade machines may spawn normal zombies instead of the 8-bit variants.
The 8-Bit Zombies can somehow be spawned without crawling out of the Arcade Machine, despite their height compared to the machine.
As a glitch and very rarely, the arcade machines may not react to the 8-bit jam, therefore not being able to spawn 8-bit zombies.
See also
Community content is available under
CC-BY-SA
unless otherwise noted.