Alarm Arrowhead (警爆磁菇 ; pinyin: jǐng bào cí gū ) is a plant in the Chinese version of Plants vs. Zombies 2. He functions similarly to Squash, dealing large damage to a group of zombies in a one tile area, but with the added bonus of disabling nearby mechanical zombies similarly to E.M.Peach. However, he will only deal damage if he is in the same row or column as another Alarm Arrowhead.
Placing two Alarm Arrowheads on the same column or row will create a red line between them, similarly to Electric Currant and Icy Currant. If a zombie crosses the line, one of the Alarm Arrowheads will attack the zombie.
Origins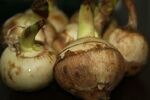 Alarm Arrowhead is based on the root of the Sagittaria sagittifolia plant, commonly known as the arrowhead.
Almanac entry
Template:Almanac/Alarm Arrowhead
In English:

Alarm Arrowhead deals heavy damage to zombies while at the same time disabling machines.

Alarm Arrowhead is an uncompromising activist. Every time a friend calls his name, he will emphasize: "I am Alarm Arrowhead, not Warning Sagittaria. I am different from those windbags!"
Upgrades
Plant Food effect
Fires a blast of energy in the third row and third column from the right spanning 5x5 tiles, dealing high damage to zombies.
Costumed
Now leaves a node of energy that deals damage to zombies in a 3x3 radius for 5 seconds.
Level upgrades
Level
Upgrades
Description

Interference Enhancement
Extend the mechanical unit's time to 8 seconds

Combat Training
Alarm Arrowhead gains 50% more attack power and health (150% of initial).

Energy Overload
Increases explosion damage by 40%

Cell Activation
Alarm Arrowhead gains another 50% more attack power and health (200% of initial).

Ability Awaken
Alarm Arrowhead may be boosted when planted.

Fighting Power
Alarm Arrowhead gains another 50% more attack power and health (250% of initial).

Super Radium Burst
An additional arc is created after the explosion, and the arc flows between the zombies, causing damage and stun the zombies for 1 second

Fighting Power
Alarm Arrowhead gains another 50% more attack power and health (300% of initial).
Strategies
Since this plant only activates on zombies between two Alarm Arrowheads in the same row or column, like Electric Currant, it would be a good idea to use Garlic or Sweet Potato to lure zombies into his range. His ability to disable mechanical zombies can come in handy in Far Future, or against other mechanical zombies like Zombie Bull or Robo-Cone Zombies.
Gallery
Trivia
If Sunflower Singer starts her Plant Food effect when Alarm Arrowhead is about to attack, it won't attack and won't be killed by zombies.
Referring to its Chinese almanac entry, it's unknown what this plant's origin is as it says it is not an arrowhead.
See also
Community content is available under
CC-BY-SA
unless otherwise noted.