For the version in the Chinese version of Plants vs. Zombies 2, see Aggro Brocco.
Aggro Brocco (大力花菜; pinyin: dàlì huācài) was a plant in Plants vs. Zombies: Journey to the West. He picked up zombies using a suplex and threw them onto the ground.
Origins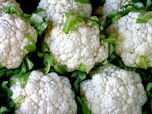 Aggro Brocco in is based on cauliflower, an annual plant that reproduces by seed and 1 of several vegetable cultivars of the wild cabbage (Brassica oleracea) in the genus Brassica, which is in the family Brassicaceae.
Suburban Almanac entry
大力花菜
抓住附近的僵尸,将它摔往后方,再摔回前方距大力花菜一格距离处,有概率将僵尸直接扔出屏幕
普通攻击范围:一格
普通攻击伤害:中等
特殊攻击范围:一格
特殊攻击伤害:高

大力花菜曾经梦想着成为一位超级英雄,就像他经常看的漫画中的那些英雄一样。为此他拒绝了可爱的番茄妹妹的告白,参加了学校的柔道社,上学在学校苦练功夫,放学去学校背后的小巷子里匡扶正义……终于有一天,他收到了学校的留级通知书。
恢复时间:长
消耗阳光:175
---
In English:

Aggro Brocco
Grabs nearby zombies throw them to the back, and then throws them back in front of it, with the probability of directly throwing the zombie off-screen.
Normal Attack Range: one tile
Normal Attack Damage: normal
Special Attack Range: one tile
Special Attack Damage: heavy

Aggro Brocco once dreamed of becoming a superhero, just like the ones he saw on the comic books he read. For this he rejected the proposal from the cute tomato, joined the judo club in his school, training his martial arts in his lessons and after school... And finally, he received his retention letter.
Recharge: slow
Cost:175
Gallery
Trivia
Community content is available under
CC-BY-SA
unless otherwise noted.